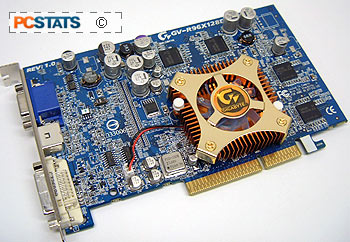 Gigabyte has long been delivering ATI-based videocards to consumers, and even though there are a lot more manufacturers on the ATi bandwagon now, it's good to see Gigabyte offer some of the better cards out there.
The Gigabyte GV-R96X128D is a prime example of what you can expect, including three full version games (Will Rock, Tomb Raider: TOAD and Raven Shield) as well as a coupon for Half Life 2 which allows you to download the full version. That software alone is worth at least $120 US, if not more.
Overclocking the card was quite an adventure, the core reached 602 MHz with the memory at stock, but once we started overclocking the memory we had to slow the core down a bit. Still 587 MHz core, 327 MHz memory is quite good.
Gigabyte have included all the crucial cables and adaptors along with the GV-R96X128D, which should retail for between $140-$180USD when it becomes available. Performance of the videocard was as expected for a 9600XT class card - offering up generous performance for the buck that should satisfy mainstream gaming desires.
The Gigabyte GV-R96X128D will easily keep the casual gamer happy at 1024x768 resolutions with AA and AF enabled as well. Bottom line, if you're looking for a good (albeit last) AGP videocard for your system, for moderate to typical gaming duty, be sure to take a close look at the new Radeon 9600XT-based Gigabyte GV-R96X128D.
Related Articles
Here are a few other articles that you might enjoy as well...