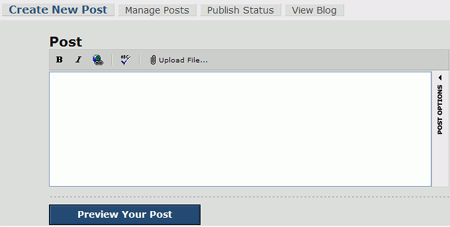 In the text box you can type whatever you want to show up on your Blog. Click 'preview post' to see how it's going to look, then 'publish your post' to send what you've just entered to your blog site.
Congratulations! You just made your first post to your brand new weblog. Remember that if you wish to simply view your blog, you can go directly to the www.(youraddresshere).blogspot.com address, but if you wish to make posts or edit options for your blog, you must go to www.blogger.com and log in with the user name and password you created.
To post links, use the insert link button at the top. You can highlight a piece of text then convert it into a link. If you wish to place a picture or document on your weblog, use the 'upload file' option then choose whether you wish the actual file to appear on the page or just a link to it.
Having second thoughts about something you've just said? Click on 'manage posts' in the 'posting' menu of your blog to edit or delete prior posts.
To change the name and description of your site, go to the 'basic' option. The 'publishing' option allows you to change the blogspot.com address for your blog, or move your blog from blogspot's hosting service to another web server by entering FTP information. For information on how to do this, see the Using the 'FTP to your own server' option section above.
The 'formatting' section allows you to make a number of changes to the way items are posted on the blog.
By default, an archive page is created every month containing all the posts from the previous month, accessible with a link from the main page of your blog. To set the archiving interval, go to the 'archiving' menu.
Using the 'email' section, you can send the blog via email to a specified address each time you post.
The 'members' section allows you to add other blogspot members to your blog, allowing them to also make posts. To use this, first enter the email of the person you wish to invite. They will receive an invitation message. If they accept, they will be able to post to the blog and edit their own posts. Using the 'members' menu, you can grant administrative access which allows them full editing permission to the blog, or delete them.
Changing the template
From this menu, you can edit the appearance of your Blog. If you know HTML, this will be self-explanatory. If you don't, I'm not going to teach it to you here, but pre-canned templates are available in many locations on the web. A good list of template sites can be found here.
These come in two types, text-based and graphical. Note that if you are using blogspot to host your weblog, you should only used text-based templates, as pictures will not carry over to blogspot. Likewise, you will have to transfer the graphic files separately to your web host, as the blogger interface is not capable of doing this.
The other blogging services we listed above work in a very similar fashion to blogger.com, though the interfaces are obviously different. Our recommendation is to get your feet wet with our tutorial, then explore the various other services to find which one suits you best. Blogging is all about personal expression, so go with the feel.