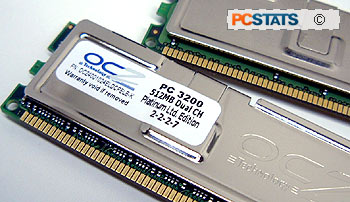 To test out how well these 512MB puppies overclocked I first installed the OCZ PC3200 Platinum DIMM's into an Athlon64 test rig. The first thing I did was lower the multiplier on the Athlon64 to 8x (to ensure the processor would not hamper our memory overclocking) and slowly started to raise the clock speed of the motherboard.
I ran into a few problems at around 213MHz but surprisingly the DIMM's were only running at 2.5V. Raising the voltage to 2.7V, or default voltage of the memory, solved some stability issues.
The memory continued on flawlessly up to 227 MHz where I again started to experience some memory related problems and was forced to raise the voltage yet again, this time to 2.8V. To my surprise the memory continued all the way up to 234 MHz without a single problem and please remember that we were running 2-2-2-5!
I have a feeling the memory could have gone higher on the Athlon64 platform but something was holding us back. It was either the motherboard or one of the devices attached to the mobo could not run at such high AGP/PCI due to the K8T800 not locking the buses.
Seeing such great success with the Athlon64 system, our hopes for overclocking with the Intel rig grew quite a bit higher. Also using 2-2-2-5 memory timings, I raised the FSB to 210 MHz at which point I had to raise the voltage from to 2.7V. After that was done the memory kept going up; 220 MHz and even 230MHz! At 233 MHz I raised the voltage yet again, this time to 2.8V, and with that I could hit a very respectable 240 MHz FSB with the OCZ PC3200 Platinum DDR.
Because I volt modded an Abit IC7-Max3 motherboard specifically for "extreme" testing, I did try higher voltages. With a memory voltage of 3.4V (which is very high and has the possibility to kill your memory), the OCZ PC3200 Platinum Limited Edition memory would do 253 MHz while running 2-2-2-5! Of course since most motherboards max out at a much safer 2.8V, I only benchmarked the board at 240 MHz FSB. Still, that's pretty impressive none the less!
pcstats test system #1 specs:
processor:

intel pentium 4 2.4c

clock speed:
12 x 200 mhz = 2.4 ghz
12 x 240 mhz = 2.88 ghz
motherboards:

abit ic7-max3

videocard:

ati radeon 9800xt

memory:

2x 512mb corsair twinx 4000*
2x 512mb ocz pc4200 el
2x 512mb ocz pc3200 plat ltd ed.

hard drive:
40gb western digital special ed
cdrom:
nec 52x cd-rom
powersupply:
pc power & cooling 510 turbocool
software setup

windowsxp build 2600
intel inf 5.03
catalyst 3.9

workstation benchmarks

sisoft sandra 2003
pcmark2002
pcmark04
3dmark2001se
ut2003
* - memory was running 3-4-4-8