Wherever possible, we like to use freely available software for our beginner's guides, since it makes things easier for everyone. The area of data and password recovery is a particularly commercial one, however, as so many businesses are willing to pay through the nose to recover lost data. This means that freely available software for document decryption is rather thin on features and thin on the ground.
To fill in the gaps, we have included some commercial demo software. Generally speaking, these products are limited by the manufacturer. With the ones we have used, you will at least be able to find out whether they will work for you or not, and thus make an informed decision about purchasing the full versions.
Recovering Password Protected Word, Excel and Microsoft Office documents
As mentioned above, there are a couple of ways to break the password protection of Microsoft Word and Excel documents. The most straightforward way is to guess the password using a program that will automatically enter words, numbers and letter until you hit upon the right one. This is the fastest and easiest way up to a point.
If the password is fairly simple (lower case only, numbers, no symbols) and up to 7 characters long, cracking it should take a fairly short time. In the case of longer and more complex passwords (for example: "1L337Pa5sW0rD[]") using this method is no longer reasonable due to the sheer time required to try each combination.
A good example of a program that uses this method is the aptly named 'free Word and Excel password recovery wizard.'
This easy to use program will first attempt a dictionary attack, in which it runs through a list of common words, then try the 'brute force' method in which it tries every possible combination of characters up to the password length you specify.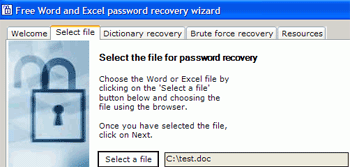 Let's look at how to use the Password Recovery Wizard:
Install the software. Please note that it requires the Microsoft .NET framework to run successfully. You can obtain that here.
Once you have the program started, click the 'select file' tab and specify the file you wish to recover the password for, and its type.
Next, click on the 'dictionary recovery' tab and specify the location of the text file you wish to use. By default, the dictionary file is located at 'c:\program files\www.freewordexcelpassword.com\free word excel password wizard\dictionary.txt'. Also specify whether you are looking for lower case only, upper case, etc.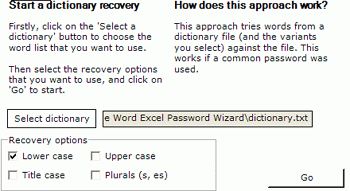 The 'brute force recovery' tab is next. Here you need to specify the character set to use (a-z only, a-z and numbers, Upper case, etc.), and the maximum length of password you wish to try.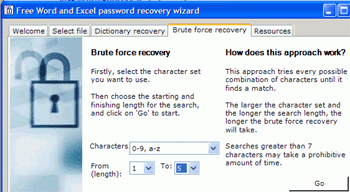 Once you are done, hit the 'go' button and sit back and wait. In our experience the program managed to crack a five-letter, lower case, non-dictionary password in about eight minutes. More complex combinations obviously take much longer.