The Leadtek TV2000XP Expert is not your plain vanilla TV tuner. This is the good stuff. In addition to bringing a TV signal into your computer monitor, it supports both recording of live TV broadcasts onto hard disk, and timeshifting.
Timeshifting is that sought after 'Tivo' application, the ability to simultaneously watch and record live TV, so that you can pause the program you are watching, and resume it from the recorded version seamlessly. Theoretically then, you could use the TV2000XP Expert within a home-theatre style PC as a replacement for a TIVO or other time-shifting electronic appliance. Very cool, but more on how the card fares in this role later in the review.
The recording options support a variety of compression formats, MPEG-1, 2 and 4, uncompressed AVI and Windows Media AVI. It also provides the ability to record video and audio directly onto a DVD disk, providing an instantly viewable DVD recording!
Other features include Picture-in-Picture (PIP) support, an electronic programming guide, adaptive scanning to help pull in weaker broadcast signals, and Microsoft Netmeeting support. The card is also an FM radio tuner, with a separate coaxial input and included wire antenna for just this purpose. And also worth mentioning, is that the Leadtek TV2000XP EXPERT carries a three-year warranty from the manufacturer.
Setup and TV on the Screen
Setting up the Leadtek TV2000XP Expert was rather easy. Like any TV-tuner, the card requires a mass of separate drivers to function within WindowsXP, as well as a couple of restarts, but all this was accomplished easily and automatically by running the setup program on the driver CD Leadtek include with the unit. Installing the Winfast PVR software was also very straightforward.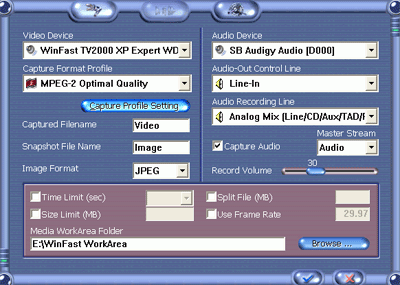 Configuring the Winfast PVR software is accomplished from a couple of option windows. The first screen shown here, controls the capture format used to record TV signals onto hard disk or DVD, and audio configuration.
From here, you can choose which video compression method you wish to use, and change the location where recorded video and snapshots are stored on the computer - given their large size, I'd recommend designating one hard drive to this task exclusively. More complex options for each capture format can be accessed by pressing the 'capture profile setting' button.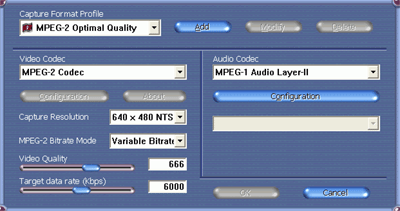 From here you can set several advanced options including the desired bit rate, and frames per second of the recorded feed. The second Window, provides picture adjustment options and a control for the quality of the timeshifting mode.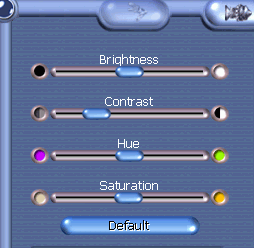 The various viewing modes (tuner, S-video in, etc.) are accessed using the button on the lower right of the main console.
The included Winfast PVR software controls the Leadtek TV2000XP Expert's operation in WindowsXP. Overall, I found the program fairly easy to get to grips with, though the timeshifting function was initially a bit confusing.