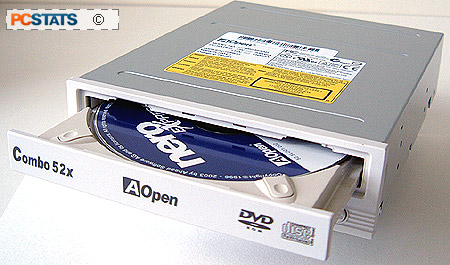 For many people, CD writers are a necessary tool that's depended upon almost daily. I know I burn three to four CD's a week, and if I didn't have access to a CD-RW, I couldn't do my job properly.

It's true that DVD burners are now available, but DVD media is still relatively expensive per disc, and the saturation of DVD-ROM's in the market is quite a bit lower than regular CD-ROM's. The AOpen 5232 Combo offers users a very flexible platform, first the drive is extremely fast at reading both CD and DVD media. Second with the ability to burn CD's it's also great for backing up crucial data.With a retail price of $55 CDN ($42 US) the AOpen 5232 Combo drive is quite a steal, sure it's a few dollars more than a regular CD-RW, but it's a lot cheaper than buying both a CD-RW and then a separate DVD-ROM!

Performance of the drive was very good for the most part, and it was easily one of the fastest drives we've ever tested. We were very pleased with the transfer rates and access times were lighting quick although CPU utilization was a bit high while reading DVD's. If you have an older PC, this may cause things to slow down elsewhere. If you need a high performance drive but don't want to go with a DVD burner, make sure you check out the AOpen 5232 Combo, it'll surely make you happy!

Find out about this and many other reviews by joining the Weekly PCstats.com Newsletter today!

Related Articles

Here are a few other articles that you might enjoy as well...

2.