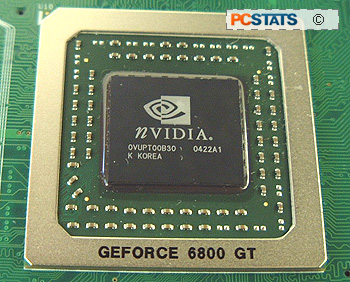 The nVidia 'NV40' GeForce 6800 GT core is built on TSMC's 0.13 micron manufacturing process, and contains a massive 222 million transistors. The 6800GT core has 16 fully functional rendering pipelines, and is backed with 256MB of DDR III memory running on a 256bit bus. The core is clocked at 350MHz, and the memory runs at 1GHz.
nVidia still employ the same flip chip packaging, but this time around there's no copper heatspreader overtop of the silicon.
Instead, there is a small shim around the outside of the package to prevent damage to the core, or miniature electrical components which dot the package surface.
While DDR III memory is not known to generate as much heat as DDR-2 RAM, the thermal package Albatron are using on the 6800GT does have its own dedicated section for the memory. Under this heatsinks we find Samsung K4J5532QF-GC20 DDRIII DRAM modules, which are clocked at a nice round 1 GHz. For more information on GeForce 6800 technology, please see PCstats review of the GeForce 6800 Ultra .
IQ, now we're talking image quality!
In the last couple of years there's been a lot of talk about videocards and image quality, and whose solution is best. After all, what good are fast framerates when everything is a pixilated blur? This was one obvious area where nVIDIA needed to improve, so let's see if they've done their jobs right this time around. For comparisons sake, we're going to illustrate the graphical quality of the Albatron GeForce 6800GT versus the ATi based X800XT PE.
Click on each image to see the full size image quality comparisons.

X800XT PE - 4x AA vs. 6800GT - 4x AA

X800XT PE - 16x AF vs. 6800GT - 16x AF

X800XT PE - 4x AA, 16x AF vs. 6800GT - 4xAA, 16x AF
The wing of the second plane seems just a bit sharper on the X800XT PE videocard than on the 6800GT. Anisotropic Filtering is almost identical on both platforms, and you'll notice that nVidia can handle 16x AF. With both AA and AF enabled, both cards produce excellent image quality, and I don't suspect any differences will really be noticeable during gaming.