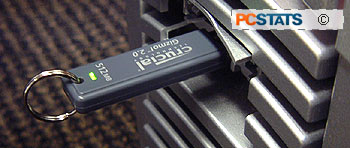 We've tested a couple different USB flash drives at PCstats, and realistically speaking there isn't too much of a difference when it comes to file transfer speeds and such. The main spec you'll want to watch out for is if the device is 'USB2.0' compliant, not just if it will work with a USB2.0 port.
Devices which communicate at USB2.0 speeds do so at 480Mbits/second. This is sometimes also called Hi-Speed USB. On the other hand, USB1.1 (or just USB) devices communicate at a paltry 12Mbits/second by comparison.
Not all PCs have USB2.0 ports, but you can quickly check your system by going to the 'Device Manager' under 'My Computer', and expanding the 'Universal Serial Bus' section. If you see an enty along the lines of 'Enhanced PCI to USB Host Controller' present, then your system has USB2.0 ports. Different motherboard chipsets support different numbers of USB2.0 ports, so consult your motherboard manual to find out which USB ports on the board are 'Hi-Speed.'
Data Transfer Tests
Upstream (write) speeds for the Crucial Gizmo 2.0 hover around 5MB/s at best, and about 1657kb/s for buffered write operations. Downstream (read) speeds are much more consistent, topping off at 5MB/s. The Sandra 2002 Pro tests we conducted on the Gizmo 2.0 give some more details as to write and read speeds for various operations, and you can see there is some moderate variation.
  Sandra 2002 Pro Benchmark Results

Crucial Gizmo 2.0

Crucial Gizmo
Gigabyte GO-U0128B
Interface: USB2.0
Interface: USB1.1
Interface: USB2.0
Size: 512MB
Size: 256MB
Size: 128MB

Buffered Read : 5 MB/s
Sequential Read : 5 MB/s
Random Read : 3559 kB/s
Buffered Write : 1657 kB/s
Sequential Write : 5 MB/s
Random Write : 1117 kB/s
Average Access Time : 5 ms

Drive index 3440

Buffered Read : 898 kB/s
Sequential Read : 898 kB/s
Random Read : 898 kB/s
Buffered Write : 765 kB/s
Sequential Write : 892 kB/s
Random Write : 759 kB/s

Drive Index 718

Buffered Read : 8 MB/s
Sequential Read : 8 MB/s
Random Read : 8 MB/s
Buffered Write : 3382 kB/s
Sequential Write : 7 MB/s
Random Write : 2264 kB/s

Drive Index 6193
The bottom line really is that the Gizmo 2.0 is much faster than the USB1.1 Gizmo flash drive of old. The Gigabyte GO-U0128B is the fastest of the bunch, but it also has the smallest storage capacity.
Like memory, choosing a USB flash hard drive all comes down to price. At $89USD for 512MB, the Crucial Gizmo 2.0 is pretty good deal. It's backed by Crucial's excellent warranty, it's tiny, it has a keyring so you can carry it around daily, and it's pretty quick on its feet. Crucial even load the Gizmo 2.0 with Secure-D software (one small file) so you can password-protect files on the USB drive if you choose. This is done by creating an area where no one can read, write, or copy from without typing the password.
A Hi-Speed USB flash drive like the Gizmo2.0 is highly recommended, but expect to loose that little plastic cap in the first week. ;)
Find out about this and many other reviews by joining the Weekly PCstats.com Newsletter today!