It's great to see how individual memory stacks up against the competition under stock configurations, but we're also going to show how it compares when overclocked. With performance in mind, we're going to compare the maximum overclocked results of the various DDR2 DIMMs we've tested in the past and are listed below. Remember, just because memory is clocked fast doesn't mean it's the best thing for a computer. Timings are also important and getting the right ratio of both is the key!
Maximum Overclocked Speeds - PCstats Results

Intel System Results

Timings

Max Speed

Ranking

PQI Turbo PQI25400-1GDB
4-4-4-12
660 MHz
Mushkin PC2-4200
4-4-4-12
614 MHz
Crucial Ballistix PC2-5400*
3-3-3-9
575 MHz
Crucial PC2-4200*
3-3-3-9
575 MHz
Samsung PC2-4200*
3-3-3-9
575 MHz
* - Needs to be retested with new BIOS that doesn't limit motherboard clock speed to 216 MHz.
While we don't have much to compare the Mushkin PC2-4200 memory against, I think it's safe to say that it does pretty well for itself here. It doesn't overclock as high as the PQI PC2-5400 memory, but that stuff is also rated faster. In addition, the Mushkin performed better than the PQI memory consistently at stock speeds.
Quality stuff for a good price...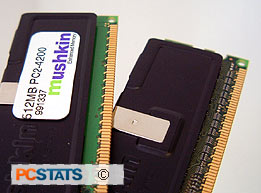 With enthusiasts willing to spend money on new technology, it makes sense for manufacturers to cater their wares towards this market from the start. For you can bet that if the boys at XtremeSystems are snapping up a specific brand of DDR-2 for their rigs, the rest of the world is sure to follow.
Each of Mushkin's PC2-4200 DIMMs 512MB DIMM is rated to operate at 266 MHz while maintaining 4-4-4-12 memory timings on 1.8V voltage. To help shield the memory from potential hazards, aluminum heatspreaders are used. Also note, PCstats does not pull of the heatspreaders on BGA DDR-2 any longer, as it is too easy to damage the modules.
In the end, our tests indicate that the performance of Mushkin's PC2-4200 DDR-2 is good overall. At stock speeds, the memory is able to run with more aggressive timings of 3-3-3-10, but when it comes to overclocking it's best to loosen things up a bit. By using 4-4-4-12 timings and 2.1V, we were able to push it up to 614 MHz which is definitely very nice. In all benchmarks, the Mushkin memory kept up with the other high performance DDR-2 RAM easily.
In retail, two 512MB sticks of Mushkin PC2-4200 DDR-2 memory will set you back about $403 CDN ($329 US), but that's not surprising considering DDR-2 memory still holds a price premium over traditional DDR. If you're looking for some quality memory from an overclocker friendly source, Mushkin definitely deliver!
Find out about this and many other reviews by joining the Weekly PCstats.com Newsletter today!
Related Articles
Here are a few other articles that you might enjoy as well...