The LG GSA-4120B includes a copy of Nero Burning ROM software, which is always handy. Neo is probably the most powerful piece of burning software that's commonly used, supports features like overburning, yet is simple enough for non-techies to use. LG also throws in a copy of PowerDVD, as well as PowerProducer Gold which is good for those multimedia users out there.
As you can see from the Nero Info Tool the drive can read pretty much every media except CD+G. As for burning, the drive also supports everything except for Mount Rainier.
Dual-Layer DVD Technology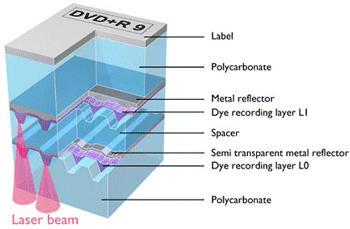 As mentioned earlier, dual-layer DVD media can store more data than its single-layer counterparts. This is because DL DVD media has two dye layers for data recording. Heat caused by the drive's laser beam modifies the physical and chemical structure of each dye layer to form patterns which can be read by the same laser (at a lower intensity) as digital data.
Each dye layer is separated by a spacer and a metal reflector. The metal layer reflects the laser light, allowing the drive to 'read' the data by observing the reflections. The first reflector (positioned after the first dye layer) is semi-transparent; when the laser is focused a certain way, it will pass through this reflector and continue through to the second dye layer and bounce off the second metal reflector. This allows the drive to read the second layer of data. The second reflector is completely opaque and will not allow the laser beam to pass any further. Thus, by modulating the frequency of its laser beam, a dual-layer capable DVD-writer can read and write to dual-layer DVD discs.
There are a couple of ways to indicate dual-layer media. The most common is 'DVD+R DL' but it's also sometimes indicated as DVD+R9. Obviously, both the drive and the media need to be dual-layer capable in order to access the extra storage space afforded to these 8.5GB monster platters!

PCStats Test System Specs:
processor:

intel pentium 4 3.0c

clock speed:
15 x 200 mhz = 3.0 ghz
motherboards:

gigabyte ga-8knxp

videocard:

ati radeon 9800 pro

memory:

2x 256mb corsair twinx3200ll

hard drive:
40gb western digital special ed.
cdrom:
lg gsa-4082b dvd burner
powersupply:
vantec 470w stealth psu
software setup

windowsxp build 2600
intel inf 5.02.1012
catalyst 4.4

workstation benchmarks

cd winbench 99
sisoft sandra 2002
nero cd speed