As usual, we begin overclocking the Crucial Ballistix Tracer PC4000 on the AMD Athlon64 system. The first thing we tried was to run the Tracer PC4000 memory at tighter timings as this is an easy way to squeeze in some extra performance. Forcing the Tracer PC4000 memory to run at CAS2 was a no go, no matter what we tried; even raising the voltage didn't help. After playing around with the memory timings for a bit, we decided to run the Tracer PC4000 memory at its default 2.5-3-3-8 timings.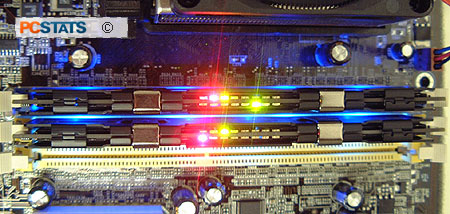 Starting with the overclocking, I slowly raised the motherboard clock speed a few MHz at a time only to hit the first snag when the motherboard stopped POSTing at 211 MHz. Raising the memory voltage to 2.8V solved this, and the Tracer PC4000 continued on with faster speeds; 230 MHz, 235 MHz and even 240 MHz fell before the Crucial Ballistix Tracer memory. We maxed it out at 251 MHz... pretty spectacular considering this is an Athlon64 system!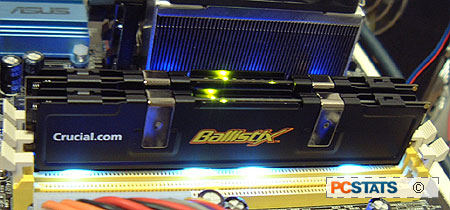 With such good results on AMD we were very hopeful how the Tracer PC4000 would handle overclocking next to an Intel Pentium 4 CPU. The first thing we did was try to tighten up the timings to 2-2-2-5, unfortunately the system would not post. Like the AMD system, if we set the Tracer PC4000 memory to run at CAS2, the system simply refused to boot up no matter the voltage was applied. Instead of fiddling around with the timings we instead decided to test only with SPD timings of 2.5-3-3-8.
On an ABIT IC7-MAX3 motherboard we began slowly to raise the FSB, and at 221 MHz the motherboard started to show some signs of instability; mainly through 3DMark crashing. Raising the DDR voltage to 2.8V solved this, and we continued forward. The Tracer PC4000 easily breached the 250 MHz mark (stock speeds for PC400) and eventually we maxed it out at 262 MHz (with 2.8V). Raising the voltages past this value seemed to make things worse, and at +3V the system just refused to boot.

PCStats Test System Specs:
system 1
system 2
processor:

amd athlon64 3200+

intel pentium 4 2.4c

clock speed:

10 x 200 mhz = 2 ghz

8 x 251 mhz = 2.01 ghz

12 x 200 mhz = 2.4 ghz

12 x 262 mhz = 3.14 ghz

motherboards:

asus k8v dlx, k8t800

abit ic7-max3, i875p

videocard:

asus radeon x800xt pe

asus radeon x800xt pe

memory:

2x 512mb corsair twinx3200xl pro
2x 512mb ocz pc3200 platinum limited ed.
2x 512mb mushkin pc3200 lii v2

hard drive:
40gb wd special ed
20gb wd hdd
cdrom:
msi x48 cd-rw/dvd-rom
nec 52x cd-rom
powersupply:
vantec stealth 470w
pc power & cooling 510w
software setup

windowsxp build 2600
via 4in1 4.55v
catalyst 4.11

windowsxp build 2600
intel inf 5.02.1012
catalyst 4.11

benchmarks

business winstone 2002
sisoft sandra 2004
pcmark2002
pcmark04
3dmark2001se
ut2003