(Note: this step is also optional. If you do not wish to pre-add drivers to your customized unattended installation Windows XP CD, skip on to the next section. The drivers you add here are not mandatory though; if you install your custom WinXP version on different hardware, they will simply not be enabled.)
Now let's look at how to add PnP drivers to the installation CD so that Windows XP will automatically detect and install all your hardware during the setup process, saving you from manually installing drivers afterwards. This is a much simpler process than adding text-mode drivers as in step 3 above.
First of all, if you did not create the $OEM$ and $1 directories during step 3 of this guide, create them now. In your 'bootcd' folder, create a folder called '$OEM$' and inside that folder create another called '$1'. Finally, in the '$1' folder, create a subfolder called 'drivers'.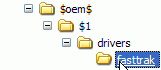 Within the 'drivers' folder, create a subfolder for each set of drivers you want to install. If you were adding chipset, sound and LAN drivers for example, create 'chipset' 'audio' and 'LAN' folders.
Now download and unzip any drivers you wish to add to your boot CD. Copy the files for each driver to its respective folder in the '$OEM$\$1\drivers' directory. Note that this process will only work with the actual driver files (i.e. .sys, .inf and .cat files) not the executable compressed files that are generally provided for video cards and certain chipsets. To use these, extract the actual drivers from the file using WinZip, WinRAR or a similar utility.
Now that the drivers have been added to the CD files, open the 'winnt.sif' file in the 'i386' directory with notepad. If you performed Step 4 above, you will already have an 'OemPnPDriversPath' entry in this file. If not, add
OemPnPDriversPath =
to the file immediately below the line:
OemPreinstall = yes
Now for each set of drivers you added, you need to provide a path so the install process can find them. The system will assume that all paths start with '$OEM$\$1\' so all you need to do is to add the 'drivers\(driver folder)' path to the file.
For example, to add a set of network adaptor drivers to your windows XP installation, you would first copy the driver files to the subfolder you created in the '$OEM$\$1\drivers' folder (let's call it 'network' for now), then you would add the following value to the 'OemPnPDriversPath = ' statement:
"drivers\network"
If you have more than one driver directory, you can add multiple values here. Simply separate each value with a semicolon. For example, to add network and sound drivers, your 'OemPnPDriversPath =' statement would look something like this:
OemPnPDriversPath = "drivers\network; drivers\sound"
That's all we need to do in order to add additional PnP drivers to Windows XP. The setup process will add the drivers you referenced in the winnt.sif file automatically now.
One additional step you may wish to take is to add the following line to the [unattended] section of your winnt.sif file:
DriverSigningPolicy = ignore
This will prevent the XP setup process from halting in the case of PnP drivers that are not WHQL certified to work with XP.