Abstract: This 400Watt unit comes armed with a bristling array of cables as well as a rear mounted knob which controls the speed of the LED-lighted 120mm fan.

Home > Reviews > Power Supply > AOpen AO400-12AHN
Voltage Values and Figures
*All voltages were read from the Motherboard BIOS.
| Listed Voltages | Lower Voltage | Upper Voltage | Jitter |
| --- | --- | --- | --- |
| +3.3V | 3.47v | 3.47v | 0.04v |
| +5.0V | 4.92v | 4.98v | 0.06v |
| +12V | 13.36v | 13.50v | 0.14v |
| -12V | 12.00v | 12.00v | 0.00v |
| -5.0V | 5.00v | 5.00v | 0.00v |
| +5.0Vsb | 5.00v | 5.00v | 0.00v |
The good new is that the AOpen Silent Power AO400-12AHN showed barely any fluctuation in voltage during testing. The bad news is that the +12V rail was a little on the high side, though not nearly enough to cause problems. If anything, this might be a positive attribute for stability, but it's worth noting.
When looking at the Seasonic Power Supply test results we see two values, wattage and volt-amps. Since it might not be clear what they measure, here's a brief overview.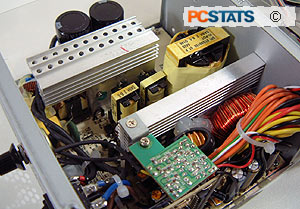 The volt-amp (VA) value is how much real power is being consumed by the power supply being tested to provide the wattage (W) value. The higher the VA value is, the more electricity is being used by the power supply. Because no electrical device is 100% efficient, there will always be some loss when converting AC to DC. The closer the volt-amps and wattage figures are to each other, the more efficient a power supply is. This is called the Power Factor: wattage / volt-amps = PF.
Since we're testing with a 120W dummy load, the load on the power supply (wattage) should be as close to this figure as possible. Anything above this load in apparent power describes the overhead and wasted energy (given off as heat) for the particular power supply being tested.
For the unloaded tests, the wattage and volt-amp figures should be as close as possible to one another. The lower the figures are, the less power is being used.
Seasonic Load Tests

Power Supply
Wattage
Test
Load
Unloaded
Seasonic SuperTornado
400 W
Active Power
177 W
6 W
Apparent Power
182 VA
7 VA
Vantec iON2

350 W

Active Power

192 W

10 W
Apparent Power
277 VA
21 VA
Antec TruePower 330
330 W
Active Power
195 W
22 W
Apparent Power
289 VA
38 VA
Ultra X-Connect Green UV 500W
500 W
Active Power
193W
22 W
Apparent Power
307 VA
40 VA
AOpen Silent Power AO400-12AHN
400W
Active Power
179W
9 W
Apparent Power
275 VA
18 VA
The AOpen Silent Power AO400-12AHN shows decent numbers here, though we'd like to have seen less of a discrepancy between the load W and VA numbers. This PSU is economical on power when its not loaded though, which is a good sign of quality. All in all, this power supply showed average performance in this power efficiency test.
A good all around power supply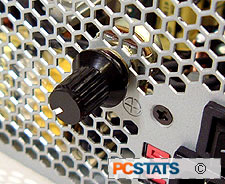 We were generally pleased by the AOpen Silent Power AO400-12AHN power supply. AOpen has a good reputation for producing quality products, and this looks like another one.
The Silent Power is blessed with an extremely attractive lighted 120mm cooling fan, which certainly added to the overall effect. The included fan control knob seems like an afterthought, and doesn't have any significant effect on the already minimal noise created by the fan. While it does reduce or increase airflow depending on the setting, there's no appreciable reason for not having it set on maximum at all times.
The electrical performance of the power supply was good overall. While it showed itself to be a tad inefficient with power under load, it's unloaded efficiency was excellent, and it provided very stable (if a little uneven) power to our test system.
With a retail price of approximately $112CDN ($92USD), the AOpen Silent Power AO400-12AHN looks to be a good buy if you are looking around for a standard lower-noise PSU for your PC.
Find out about this and many other reviews by joining the Weekly PCstats.com Newsletter today! Catch all of PCstats latest hardware reviews right here.
Related Articles
Here are a few other articles that you might enjoy as well...
1. Antec TruePower 330W Power Supply Review
2. PC Power & Cooling Turbo-Cool 510-PFC Power Supply
3. Seasonic Super Tornado 400W Power Supply Review
4. Vantec iON2 350W Power Supply Review
5. Ultra X-Connect Green UV 500W Power Supply