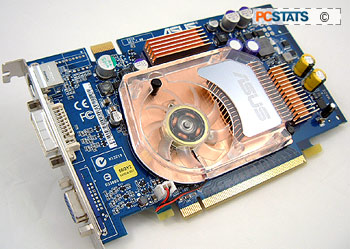 There's a large disparity in performance and price between the GeForce 6600 and 6600GT cards and it seems like manufacturers have caught on. Many are now offering "factory overclocked" GeForce 6600 videocards to those who want better performance than a regular 6600 offers, but can't afford to go all out and get a 6600GT.
The Asus Extreme N6600TOP/TD/128M/A is a prime example of manufacturer ingenuity and it's a darn good card too. Based around the GeForce 6600 core, Asus raised the clock speed slightly and equipped the videocard with the same memory that's found on 6600GT class cards, though clocked slightly slower.
The Asus Extreme N6600TOP/TD/128M/A uses a GeForce 6600GT reference design PCB and layout so it shouldn't be much of a surprise to see that the card overclocks well. The large aluminum HSF on the core kept it nice and cool and the memory RAMsinks were a nice touch.
At stock speeds, the ASUS N6600TOP/TD/128M/A offers an excellent mid way point between a vanilla 6600 and 6600GT in terms of performance. In many cases, it was as fast as the higher end PowerColor Radeon X700 Pro. When it came to overclocking, our particular test sample was quite up to the challenge. The stock core speed of the N6600TOP/TD/128M/A is 400 MHz and we were able to push this bad boy all the way up to 616 MHz! The memory was decent as well and hit a high of 1.03 GHz.
Unfortunately the Asus N6600TOP/TD/128M/A has not reached the retail market yet, but we'd expect it to retail in the $230ish CDN range. This is slightly less than a full fledged 6600GT and a bit more than a regular 6600. the N6600TOP/TD/128M/A is a fast videocard and a solid choice for gamers on a budget.
Find out about this and many other reviews by joining the Weekly PCstats.com Newsletter today! Catch all of PCstats latest hardware reviews right here.
Related Articles
Here are a few other articles that you might enjoy as well...