PCStats Test System Specs:
| | |
| --- | --- |
| processor: | intel pentium 4 540 |
| clock speed: | 16 x 200 mhz = 3.2 ghz |
| motherboards: | gigabyte ga-8anxp-d, 925x |
| videocard: | msi rx800xt-vtd |
| memory: | 2x 512mb crucial ballistix pc-5300 |
| hard drive: | 74gb wd raptor |
| cdrom: | aopen 8x dvd+/-rw |
| powersupply: | vantec stealth 520w psu |
*all voltages were read from the motherboard bios.
Listed Voltages
AMP
Lower Voltage
Upper Voltage
Jitter
+3.3V
26A
3.29v
3.33v
0.04v
+5.0V
52A
4.99v
5.00v
0.01v
+12V
28A
11.99v
12.02v
0.3v
-12V
1A
12.00v
12.00v
0.00v
-5.0V
0.8A
5.00v
5.00v
0.00v
+5.0Vsb
2.5A
5.00v
5.00v
0.00v
The voltage values of the VAN-520A are very stable all around. there's a little bit of jitter in the 3.3V rail but not enough to affect any of the system devices. The +12V rail which feeds the processor is nice and strong with the system sitting at idle. We experienced no signs of instability when running Prime 95.
When looking at the Seasonic Power Supply test results we see two values, wattage and volt-amps. Since it might not be clear what they measure, here's a brief overview.
The volt-amp (VA) value is how much real power is being consumed by the power supply being tested to provide the wattage (W) value. The higher the VA value is, the more electricity is being used by the power supply. Because no electrical device is 100% efficient, there will always be some loss when converting AC to DC. The closer the volt-amps and wattage figures are to each other, the more efficient a power supply is. This is called the Power Factor: wattage / volt-amps = PF.
Since we're testing with a 120W dummy load, the load on the power supply (wattage) should be as close to this figure as possible. Anything above this load in apparent power describes the overhead and wasted energy (given off as heat) for the particular power supply being tested.
For the unloaded tests, the wattage and volt-amp figures should be as close as possible to one another. The lower the figures are, the less power is being used.
Seasonic Load Tests

Power Supply
Wattage
Test
Load
Unloaded
Seasonic SuperTornado
400 W
Active Power
177 W
6 W
Apparent Power
182 VA
7 VA
Vantec iON2

350 W

Active Power

192 W

10 W
Apparent Power
277 VA
21 VA
Ultra X-Connect Green UV 500W
500 W
Active Power
193W
22 W
Apparent Power
307 VA
40 VA
AOpen Silent Power AO400-12AHN
400W
Active Power
179W
9 W
Apparent Power
275 VA
18 VA
Seasonic S12-430
430W
Active Power
179W
6W
Apparent Power
180VA
9VA
RAIDMAX LDE6001E
500W
Active Power
187W
12W
Apparent Power
275VA
24VA
Vantec Stealth 520W
520W
Active Power
185W
9W
Apparent Power
277VA
16VA
The Vantec Stealth 520W is not very efficient, but then again most computer power supplies without power factor correction (PFC) do poorly in efficiency tests. The VAN-520A is not the most power-hungry PSU we've tested either, as the Ultra X-Connect Green UV 500W PSU gets that honor.
Not a bad choice...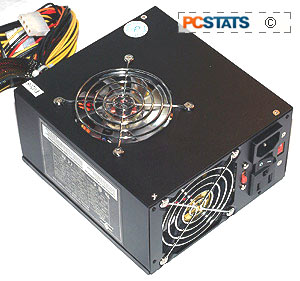 The Vantec VAN-520A Stealth power supply has a few nice features that should guarantee it a very successful lifespan in the stores. The ability of the powersupply to manage all three fan speeds is pretty good, as this can be a useful way of keeping your overall system noise down. This PSU is not the absolute quietest one we have ever tested, but it does offer pretty good noise levels under the automatic setting. For more powerful cooling, a simple flick of the switch turns the fans up to higher RPM levels.
With a very comprehensive assortment of power connectors for both motherboards and peripherals, there aren't too many situations where you would need to look for y-splitters with this 520W power supply. Of course, this also translates into a cluttered case if you do not take care of where you place your cables. I'd recommend getting some spiral cable wrap to help keep the lengths of cable eminating from the VAN-520A in check. Other than that there isn't much to put against this rather nice looking black anodized aluminum power supply with its three fans and extra AC power socket.
If you've got an aluminum case and lots of peripherals, make a B-line for the store and have a look at the all black, all aluminum Vantec VAN-520A power supply. With a retail price of $134 CDN ($109 US), it might just be what you need to make your system a powerful and completely Aluminum beast!
Find out about this and many other reviews by joining the Weekly PCstats.com Newsletter today! Catch all of PCstats latest hardware reviews right here.
Related Articles
Here are a few other articles that you might enjoy as well...
1. Antec TruePower 330W Power Supply Review
2. PC Power & Cooling Turbo-Cool 510-PFC Power Supply
3. Seasonic Super Tornado 400W Power Supply Review
4. Vantec iON2 350W Power Supply Review
5. Ultra X-Connect Green UV 500W Power Supply