Overclocking Results:
Before we began to push the memory modules, I first lowered the CPU multiplier to 6x; this way the CPU will not be the bottleneck holding the memory back. Starting at 200 MHz with 2-2-2-5 memory timings running at 1:1, I began to increase the motherboard clock speed in 5 MHz intervals.
At 215 MHz the OCZ memory actually started to show some signs of instability and the system would often drop back to desktop while running 3D benchmarks. Increasing the memory voltage to 2.8V solved that so we continued pushing the system higher.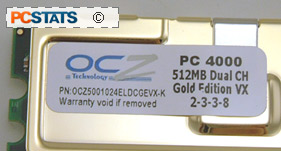 After the voltage increase, things went smoothly all the way up to 240 MHz. Around that speed, the system was a bit flakey, sometimes locking up while booting Windows or crashing while running benchmarks. We needed a pretty hefty voltage increase to get around this roadblock, all the way up to 3.2V!
I guess this shouldn't be surprising since the memory is rated to run at 250 MHz with 3.3V, so we are still within manufacturer specs. It does look like overclockers without a DFI or volt-modded board might have better luck elsewhere though.
At 3.2V, the OCZ PC4000 Gold Dual Channel VX seemed very happy and the system was stable all the way up to 260 MHz. Anything higher caused more stability problems. It seems like the memory was starting to top out, since the voltage had to be increased substantially to squeeze out a few more MHz. In the end, the memory hit a high of 268 MHz while running using 2-2-2-5 memory timings with a voltage of 3.5V . Increasing the voltage higher actually lowered the memory's maximum overclock.
Curious, I decided to see how high I could push the memory with the default 2-3-3-8 memory timings and loose 3-4-4-8 timings. Would the OCZ PC4000 VX kit have any more in it? With 2-3-3-8 timings, the memory didn't get much further, topping out at 272 MHz. With the lax 3-4-4-8 timings, the maximum speed the system would run at was 283 MHz.
If you're new into overclocking never fear, Mike wrote a great article on the topic of pushing the various components in your system to the max. Even if you're an experienced enthusiast, the Beginners Guide: Overclocking the CPU, Motherboard and Memory is a must read. ;-)

pcstats test system specs:
processor:

amd athlon64 4000+

clock speed:

12 x 200 mhz = 2.4 ghz
9 x 268 mhz = 2.41 ghz

motherboards:

dfi lanparty nf4 sli-dr (nf4-sli)

videocard:

msi rx800xt-vtd256e

memory:

2x 512mb corsair twinx3200xl pro
2x 512mb centon gemini pc3200
2x 512mb ocz pc4000 gold dc vx

hard drive:
74gb western digital raptor
cdrom:
gigabyte go-w0808a dvd burner
powersupply:
pc power & cooling turbocool 510 sli
heatsink:
prometeia mach ii gt (review)
Software Setup

WindowsXP
Forceware NF4 6.53
Catalyst 5.4

Benchmarks

Business Winstone 2004
SiSoft Sandra 2005
PCMark04
3DMark2001SE
3DMark05
X2: The Threat
UT2003
UT2004
Doom 3