It's great to see how individual memory stacks up against the competition under stock configurations, but we're also going to show how it compares when overclocked. With performance in mind, we're going to compare the maximum overclocked results of the various DDR2 DIMMs we've tested in the past which are listed below. Remember, just because memory is clocked fast doesn't mean it's the best thing for a computer. Timings are also important, and getting the right ratio of both is the real key to performance-based overclocking!
Maximum Overclocked Speeds and Timings - PCstats Results

Intel System Results

Timings

Max Speed

Ranking

PDP Systems Patriot PC-4200 DDR2 XBL
4-3-3-12
672 MHz
PQI Turbo PQI25400-1GDB
4-4-4-12
660 MHz
Corsair Twin2X1024-4300C3
3-3-3-8
653 MHz
Crucial Ballistix PC2-4200
4-4-4-10
644 MHz
Mushkin PC2-4200
4-4-4-12
614 MHz
Crucial Ballistix PC2-5400*
3-3-3-9
575 MHz
Crucial PC2-4200*
3-3-3-9
575 MHz
Samsung PC2-4200*
3-3-3-9
575 MHz
* - Will be retested in the future with new BIOS that doesn't limit motherboard clock speed to 216 MHz.
The Crucial Ballistix PC2-4200 DDR2 does pretty well for itself in the overclocking tests considering it's PC2-4200 quality memory, too bad the memory wouldn't run tighter timings.
Conclusions: Ballistix PC2-4200 DDR2
Its seems obvious that computer users are used to change, and in most cases that enthusiasts are quite open to it.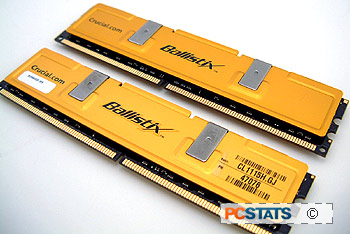 Memory seems to strike a certain nerve however, I guess the reason consumers feel compelled to resist is that a new memory architecture often doesn't bring immediate performance gains. Rather, the potential is usually realized quite a bit later.
Its been well over a year since DDR2 was introduced as the memory of the future for desktop PCs. Only now are we really starting to see its benefit. Dual core processors have a very real need for high bandwidth memory, and the only memory architecture that quenches this thirst is DDR2 RAM.
Crucial is a name that most of us are familiar with, and recently it has augmented its lineup with enthusiast calibre memory under the 'Ballistix' marquee. The pair of 512MB Crucial Ballistix PC2-4200 DDR that were tested in this review, performed quite well on the whole. The memory didn't like tight timings, but that did not seem to affect its performance by much in the benchmarks. The Ballistix PC2-4200 memory also overclocked quite well, reaching a high of 644 MHz with default timings of 4-4-4-10. With a retail price of $219 CDN ($181 US) for this 1GB set of PC2-4200, it's certainly a great deal to consider.
Find out about this and many other reviews by joining the Weekly PCstats.com Newsletter today! Catch all of PCstats latest hardware reviews right here.
Related Articles
Here are a few other articles that you might enjoy as well...
1. Corsair Twin2X1024-4300C3 DDR-2 Memory Review
2. PDP Systems Patriot PC2-4200 DDR2 XBL Memory Review
3. Mushkin 1GB PC2-4200 DDR-2 Memory Review
4. PQI Turbo PQI25400-1GDB DDR-2 Memory Review
5. Crucial Ballistix PC5300 DDR2 Memory Review