It's great to see how individual memory stacks up against one another under stock configuration, but we're also going to show how they stack up to each other when overclocked. The results are listed below for some of the recent memory to cross PCSTATS' test bench. All memory was tested at its most lax timings as well as its most aggressive. In terms of best overall overclocking performance, PCStats currently gives more weight to the combination of moderately high speeds and low latencies (2-2-2-5) than high speeds at the expense of latency timings.
Maximum Overclocked Speeds - PCstats Results

Maximum Speed w/ Low Latency

Timings

Max Speed

Ranking

OCZ PC4000 Gold DC VX
2-2-2-5
536 MHz
Mushkin HP3200 Redline
2-2-2-5
522 MHz
PDP PDC1G3200+XBLK PC3200
2-2-2-5

512 MHz

Mushkin PC3200 LII V2
2-2-2-5
508 MHz
Corsair TwinX1024-4400C25PT
2-2-2-5
506 MHz
Corsair TwinX3200XL
2-2-2-5
504 MHz
Patriot PDC1G5600ELK PC5600
2-3-2-5
494 MHz
Centon GEMiNi PC3200
2-2-2-5
492 MHz
Crucial Ballistix Tracer PC4000
2-2-2-5
474 MHz
OCZ PC4800 Platinum
2-2-2-5
468 MHz
Corsair Xpert Memory PC3200
2-2-2-5
442 MHz

Maximum Speed

Timings

Max Speed

Ranking

Patriot PDC1G5600ELK PC5600
3-5-5-9
674 MHz
OCZ PC4800 Platinum
2.5-4-4-10
636 MHz
Corsair TwinX1024-4400C25PT
2.5-4-4-8
624 MHz
Mushkin PC3200 LII V2
3-4-4-8
614 MHz
PDP PDC1G3200+XBLK PC3200
3-4-4-8
610 MHz
Centon GEMiNi PC3200
3-3-3-9
604 MHz
Crucial Ballistix Tracer PC4000
3-4-4-8
594 MHz
Corsair TwinX3200XL
3-4-4-8
574 MHz
OCZ PC4000 Gold DC VX
3-4-4-8
566 MHz
Mushkin HP3200 Redline
3-4-4-8
552 MHz
Corsair Xpert Memory PC3200
2.5-3-3-6
470 MHz
As we mentioned earlier, the Patriot PDC1G5600ELK does really offer the best of both worlds. It is able to scale fairly high with tight timings hitting a nice 247 MHz mark, loosen those timings up a bit and the memory achieves a remarkable 674 MHz! Of course, Patriot Memory rates the PDC1G5600ELK DDR at 700 MHz but for some reason we were not able to reach that level. Still the results we did achieve are pretty impressive.
Red Hot Patriot Memory.
If you are only interested in speed, Patriot has the memory for you. Its new PDC1G5600ELK modules have a default rating of PC5600 and that equals to DDR700 speeds! Timings are very lax at 3-5-5-9-2T, however there is not anything faster on the market known to us.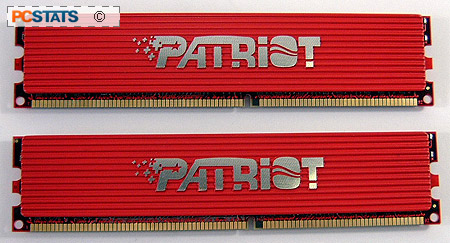 With its unique heatspreaders, the Patriot PDC1G5600ELK PC5600 DDR looks quite nice and would definitely compliment a case modder's computer. The aluminum heatspreaders are not there simply for looks, these days high speed DDR memory with high voltages can get extremely hot, and active cooling is recommended with several models.
The Patriot Memory PDC1G5600ELK PC5600 DDR performed very well in the overclocking tests and were able to hit a very respectable 247 MHz with tight 2-3-2-5-1T memory timings. The system refused to boot into the OS with a Trcd setting of 2, but that timing does not affect overall performance too much. Loosening up the memory timings to the manufacturer recommended settings of 3-5-5-9 enabled the memory to fly to a speed 337 MHz; although the memory is supposed to reach 350 MHz. Something held us back, but it's hard to say what that was...
Performance of the (2x512MB) 1GB Patriot Memory PDC1G5600ELK PC5600 DDR modules was very good overall, and gamers are the ones who would get the most benefit from this type of RAM. Overclocking for 2D office applications does little for overall performance as you can imagine.
A 1GB set of the Patriot Memory PDC1G5600ELK DDR modules retails for about $230USD ($270CDN) but Patriot has traditionally priced its memory quite aggressively. If you are looking for some lightning quick memory for your high performance Athlon64 system, the Patriot Memory PDC1G5600ELK is certainly worth close consideration.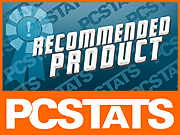 Find out about this and many other reviews by joining the Weekly PCstats.com Newsletter today! Catch all of PCstats latest hardware reviews right here.
Related Articles
Here are a few other articles that you might enjoy as well...
1. Introducing FB-DIMM Memory: Birth of Serial RAM?
2. OCZ PC4800 Dual Channel Platinum Limited Edition Memory
3. Mushkin HP3200 Redline PC3200 DDR Memory Review
4. OCZ PC4000 Gold Dual Channel VX Memory Review
5. Centon Advanced GEMiNi PC3200 Dual-Channel Kit Review