High Definition content is the future of entertainment! Playing High Definition content on current generation PCs can bog down the fastest processors because there is more data to handle. Similar to the need for DVD accelerators a few years back, nVIDIA PureVideo enables computer users to view MPEG-2/DVD and WMV HD formats without slowing the PC to a crawl.
The PureVideo standard incorporates a hardware accelerator for the afore mentioned MPEG-2/DVD, and Microsoft Windows Media HD Video standards (WMV HD). According to nVIDIA's documentation on PureVideo, the GPU (GeForce 6 and 7 series GPUs) takes on video decoding tasks from the CPU, and the end result is smoother, shutter free HD playback. nVIDIA PureVideo also supports most current and future high definition formats. The system seems to be built with a good degree of future proofing for upcoming standards - as it should be.

PureVideo is more than just a media accelerator; it also includes features to improve video picture quality. If you believe the marketing; DVD, cable, and satellite video provide poor crispness, clearness and smoothness that consumers are desperate to be "saved from." nVIDIA's PureVideo technology applies spatial temporal de-interlacing to apparently deliver a better image than traditional de-interlacing can muster. PureVideo also fixes the 3:2 pull down problem that can arise from 24 fps video being converted to 30 fps for viewing on TVs or monitors. By recovering the original 24 frame content, PureVideo apparently allows for a clear crisper image.
PureVideo can also scale videos to any resolution, while maintaining a relatively detailed picture. This means users can view lower resolution videos at a high resolution without suffering too much from blocky or blurry pictures.
experts tip: use the right slot in sli motherboards!

when installing videocards into nforce4 sli based motherboards it does matter which slot you choose if you are only using one card. by default the secondary physical pci express x16 on most motherboards only has access to one pci express lane. what makes things more confusing is that the os and videocard can still operate normally in 2d mode if inserted into the second pci express x16 lane. users would only notice an issue when running 3d graphics, specifically that everything is very slow since the bandwidth between the videocard and computer is smaller. when installing a single videocard into a dual videocard compatible motherboard, always insert it into the top, or first slot. that guarantees that the videocard has access to all 16 pci express lanes.

Comments and Feedback? Suggest a Tweak.
Albatron Videocard Overclocking

Overclocking Results:
Overclocking GeForce 6600 videocards is quite easy in general and we were expecting some nice numbers from the Albatron GeForce 6600-512. By default the core is clocked at 300 MHz and memory clocked at 500 MHz, and as usual first up was the core...
Starting at 300 MHz the core was increased slowly in 5 MHz intervals with RivaTuner. The little GeForce 6600 core on the Albatron card was definitely up to the challenge and easily broke the 400 MHz mark. Hoping to get to the 500 MHz clock speed that GeForce 6600GT's are clocked at the NV43 core was pushed harder. The Albatron GeForce 6600-512's core maxed out at a top speed of 490 MHz, which is 10 MHz shy of the 6600GT's clock speed, not bad for an inexpensive videocard!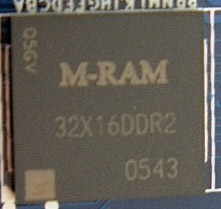 Next up was the memory, the markings on the DRAM modules were M-RAM 32X16DDR2 which is rather vague. Anyway starting at 500 MHz, the memory frequency was increased in 10 MHz intervals. Unfortunately the memory did not overclock quite as well as the core, and it topped out at 550 MHz. Anything higher did not produce artifacts but the overall benchmark results plummeted to below stock levels which was rather odd.
The core and memory had no difficulty running at top speeds together. That's a nice change from previous generation GeForce videocards. Overclocking also did boost overall performance quite a bit which you will see in the upcoming benchmarks!
Prelude to Benchmarks
The details of how the Albatron GeForce 6600-512 test system was configured for benchmarking; the specific hardware, software drivers, operating system and benchmark versions are indicated below. In the second column are the general specs for the reference platforms this GeForce 6600 based videocard is to be compared against. Please take a moment to look over PCSTATS test system configurations before moving on to the individual benchmark results on the next page.

PCSTATS Test System Configurations