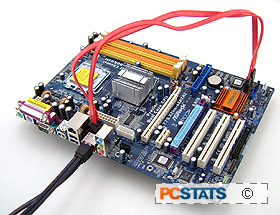 eSATAII (a.k.a. External Serial ATA) is one of the most exciting features of the new ASRock 775XFire-ESATA2/A/ASR motherboard. Here's why - when it comes to external mass storage bandwidth has always been an issue. USB 2.0 (480 Mbps) and IEEE 1394a/b (400/800 Mbps) offer better alternatives than past connections (like Serial/Parallel ports) but are still slow compared to dedicated hard drive channels for moving data. Other alternatives like SCSI are cost prohibitive and tend to go beyond the needs of the average consumer.
With the emergence of Serial ATA, external storage took a huge step forward. SATA offers a cost effective solution that yields data transfer speeds at well past USB or IEEE 1394 levels.
Serial ATA generation I has up to 1.5Gbps worth of bandwidth and Serial ATA generation II doubles that. Serial ATA makes even IEEE 1394b's 800Mbps bandwidth look paltry by comparison, and that is why its use for external storage applications is so alluring.
The ASRock 775XFire-ESATA2/A/ASR motherboard has a set of eSATAII jacks at the rear I/O panel, and they work nicely because they are easily accessible and don't occupy a PCI slot (via bracket). For the two eSATA jacks to actually work they need to be connected to the ICH7R Serial ATA II channels via a set of standard Serial ATA cables. This is required because the eSATAII jacks do not have direct electrical access to the Southbridge, so in effect the jumpers are simply relocating two ports over towards the rear I/O panel.
In other words, if you use the two external Serial ATA devices the system will loose access to two of the ICH7R's Serial ATA II channels.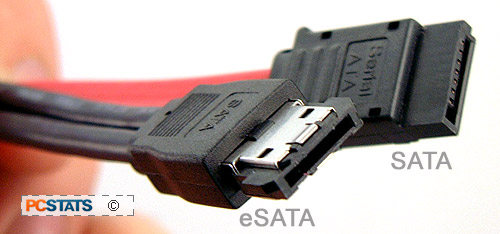 See the image above for a comparison of SATA and eSATA cable connector types.
The ASRock 775XFire-ESATA2/A/ASR supports eSATA I (I not 1) type connectors which are physically different than the internal L style connector. There are also eSATA L connectors out there, so we'd advise you to double check what type you'll be needing before buying anything. There are also I to L cables available in case the Serial ATA controller and the external device have different connectors.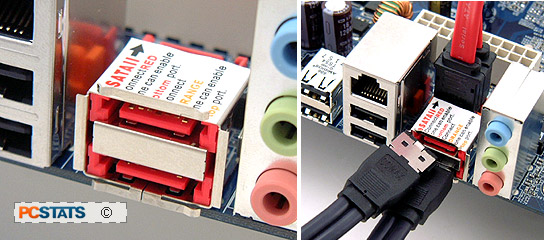 Standard internal Serial ATA cables can be quite fragile which is why SATA-IO (the governing body) decided to change a few things with the external version. The external cable is a lot more flexible and durable than the internal version which should be understandable. Also the external cable is shielded, a must since electrical interference can potentially cause data corruption.
More in the full capability of eSATA on the ASRock 775XFire-ESATA2/A/ASR motherboard is next...