It's great to see how individual memory stacks up against the competition under stock configurations, but we're also going to show how it compares when overclocked. With performance in mind, we're going to compare the maximum overclocked results of the various DDR2 DIMMs we've tested in the past which are listed below. Remember, just because memory is clocked fast doesn't mean it's the best thing for a computer. Timings are also important, and getting the right ratio of both is the real key to performance based overclocking!
Maximum Overclocked Speeds - PCstats Results

Maximum Speed w/ Low Latency

Timings

Capacity
Max Speed

Ranking

Corsair Twin2X2048-6400C4
4-4-4-12
1024MB
1016 MHz
Corsair Twin2X2048-8500C5
4-4-4-12
1024MB
952 MHz
Corsair Twin2X2048-6400C3
3-4-3-9
1024MB
872 MHz
SyncMAX PC2-5300 Express
4-4-4-10
512MB
840 MHz
Crucial Ballistix PC2-5300
3-3-3-12
1024MB
790 MHz

Maximum Speed

Timings

Capacity
Max Speed

Ranking

Corsair Twin2X2048-6400C4
5-5-5-15
1024MB
1104 MHz
Corsair Twin2X2048-8500C5
5-5-5-15
1024MB
1104 MHz
Corsair Twin2X2048-6400C3
5-5-5-15
1024MB
1056 MHz
Crucial Ballistix PC2-5300
5-5-5-15
512MB
1056 MHz
SyncMAX PC2-5300 Express
5-5-5-15
1024MB
904 MHz
Even though the 2GB Corsair Twin2X2048-8500C5 kit is not intended to for use with tight timings (stock = 5-5-5-15), performance is still pretty good overall. It's a shame the Foxconn C51XEM2AA motherboard topped out so quickly, it's a definite that the Corsair Twin2X2048-8500C5 can overclock higher than 1104 MHz.
Does Corsair Redefine High Speed DDR-2?
It doesn't matter if you're a fan of DDR-2 memory or staunchly holding onto those trust DDR sticks, it's the memory standard that will be with us for the next few years and there is no changing that. Multi-core processors require more bandwidth than conventional memory standards provide, thus DDR2 is a necessity.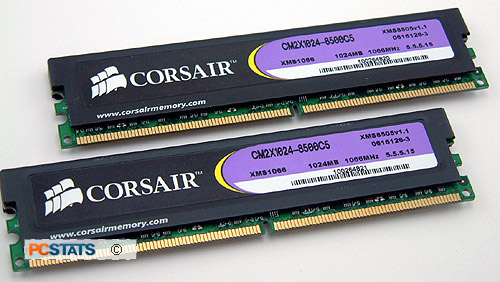 The debate between low latency and memory bandwidth has been raging almost since the dawn of computing, and the arguments are alive and well with DDR2. There is no best memory, it really depends on what you want to do with your computer.
With dual core processors like the Intel Pentium D, high speed DDR-2 memory allows you to overclock much higher without the fear of bandwidth starving the processor. With the Socket AM2 AMD Athlon64's wonky memory controller, high speed memory is also easier to overclock. However, an Athlon64 core is still an Athlon64 core, and it will always react positively to lower latency memory than naught.
Corsair's 2GB Twin2X2048-8500C5 DDR-2 memory kit is squarely designed for the enthusiast at heart. With the ability to run at 1066 MHz by default, the Twin2X2048-8500C5 memory is the definition of fast. To reach this speed though, Corsair recommends a voltage of 2.2V which is pretty high, better to have good case cooling 'cause this memory generates a fair amount of heat.
Even with the lax 5-5-5-15 timings the performance of the Corsair Twin2X2048-8500C5 at DDR2-800 speeds was decent, and it did not trail the low latency memory by much. The Twin2X2048-8500C5 memory was able to run at 276 MHz without any problems, yet I have the feeling it could have gone much higher if the nForce 590 based motherboard had not maxed out first.
When we consider the benchmark and bandwidth figures for the Corsair Twin2X2048-8500C5 memory running on a socket AM2 AMD Athlon64 FX-62 platform, at 276 MHz, it really underscores what good enthusiast grade memory is capable of. Low latency timings of 4-4-4-12 limited the memory to just 238 MHz however.
The Corsair Twin2X2048-8500C5 is highly specialized memory and if you're looking for something that can reach insane clock speeds, look no further. Hardcore overclocking is an expensive hobby and with a retail price of $510 CDN ($455 US, £246) for 2GB of DDR-2 it is priced at a premium, but it's about the best you can get.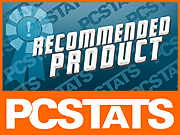 Find out about this and many other reviews by joining the Weekly PCstats.com Newsletter today! Catch all of PCSTATS latest reviews right here.
Related Articles
Here are a few other articles that you might enjoy as well...
- Crucial Ballistix PC2-5300 DDR2-667 2GB Memory Kit Review
- SyncMAX PC2-5300 DDR2-667 Express Memory Review
- Corsair Twin2X2048-6400C4 Memory Review
- Buffalo FireStix FSX1000D2C-K2G PC2-8000 DDR-2 Memory Review
- Patriot Memory PDC22G8000+XBLK Rev.2 DDR2-1000 Memory Review
- Patriot Memory PDC2G4000ELK 2GB Memory Kit Review
- Patriot Memory PDC22G8000ELK PC2-8000 DDR2 Memory Review