We hooked up the modem to our computer and at first played around with it using another phone line to test it out. Every single time we called, the modem would ring and the call picked up. We tested each of the different scenarios and they all worked perfectly. To see how this connecting/disconnecting affected the internet we tested the call waiting modem while downloading files, checking mail, and general surfing.
From our observations, when the modem begins to ring it interrupts the data flow, but does not cause the computer to loose the connection. Where files and mail downloading may be affected, and need to be restarted, web surfers will usually just have to refresh the current page if any information was truncated.
Problems
The only issues we noticed when operating with the call waiting modem installed were some phantom calls. The modem would ring, and upon answering the phone, there would only be a dial tone. We believe this to just be phantom calls, rather then dropped calls, as this occurred around 3 in the morning when no one would be calling. We talked to Actiontec and they have informed us a new set of drivers is in the works to remedy these occasional hiccups.
While our test modem also came with a limited offer, call display module, it would only display the incoming number when we were offline. While surfing the web, incoming calls did not register. This is a minor attribute however.
Conclusions:
When you compare the Call Waiting modem with the alternatives - namely internet call manager - it's a really great alternative. Where ICM encompasses monthly fees for the service, the call waiting modem only requires call waiting service (which you may already have and is useful if not surfing the web regardless) from your telco.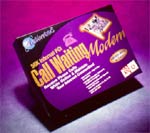 Bottom line, is the call waiting modem worth getting? I'd say yes, provided you are willing to get call waiting if you don't already have it. It does the job, enabling modem users with the ability to receive phone calls in person, without messing up their internet connections if the calls are not urgent. For the urgent calls, the caller does not have to wait for you to call them back, or require them to call you again. Essentially the call waiting modem provides best of both worlds possible with the modem, connectivity and limited telephone access.
Keeping in mind that this modem is still quite new to the market and has a few minor quirks, Actiontec is continuing to provide software support for their product which is good to see. While I've recently made the jump to broadband, I would suggest anyone in the dial-up market at least take a look at the call waiting modem as a possible alternative to programs like ICM or digital voice mail from the telco.