Well, this is going to be rather disappointing overclocking analysis. There are no overclocking options available in the Gigabyte GA-945GM-S2's BIOS. Considering the intended market for this 945G Express based platform this is not a big loss. There are basic memory tweaks though.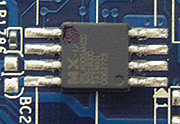 BIOS Options and Tweaks:
At first glance the Gigabyte GA-945GM-S2 motherboard seems to be lacking a BIOS chip - at least one that resembles the familiar standard square CMOS Plastic Leaded Chip Carrier (PLCC) package.
Along side the PCI Express x16 slot is a Macronix 4Mbit SPI Serial Flash chip. This is an 8 lead surface mounted chip of about 3mm square, in a SOIC package. The tiny BIOS chip occupies hardly any board space, and is not removable. On it is loaded an Award BIOS.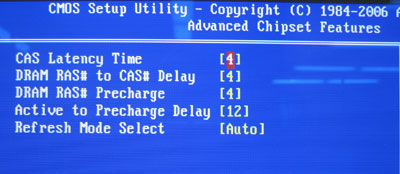 The options for adjusting memory settings are fairly basic; CAS Latency, RAS to CAS Delay, RAS Precharge and the ability to change the memory operating frequency are provided.

Up next, benchmarks of this 'Conroe' powered Intel Core 2 Duo 945G Express based motherboard
Prelude to Benchmarks
The details of how the Gigabyte GA-945GM-S2 motherboard test system was configured for benchmarking, including the specific hardware, software drivers, operating system and benchmark versions are indicated below. In the second column are the general specs for the reference platforms this Intel 945G Express based system is to be compared against. Please take a moment to look over PCSTATS test system configurations before moving on to the individual benchmark results.

PCSTATS Test System Configurations