Overclocking Results:
PCSTATS has generally had an easy time overclocking MSI motherboards in the 6 years we've been at this gig, so the expectations were good as the tweaking began in earnest with the MSI P965 Platinum motherboard.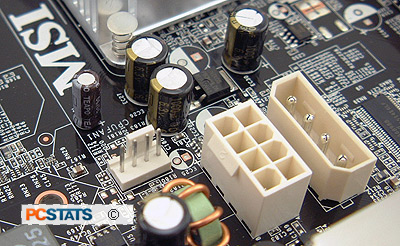 With an Intel Core 2 Duo E6600 processor and a 2GB set of Corsair Twin2X2048-6400C4 installed, the MSI P965 Platinum had everything it needed to fly... Before overclocking began the memory was first set to run in DDR2-533 MHz mode, this way it wouldn't hold the motherboard back.
Starting at 266 MHz the P965 Platinum's clock speed was increased in 10 MHz intervals. That's more aggressive than we normally take it, but I have a good feeling about this MSI board. ;-)
Sure enough the P965 Platinum motherboard flew by 300 MHz FSB. It's great to see the new generation of Intel Core 2 Duo motherboards overclock so well. At 360 MHz the motherboard started to show some signs of instability, increasing the Northbridge voltage to the max value (1.69V) solved that issue.
We pushed the board a little higher, to a maximum speed of 375 MHz in fact. Not too shabby at all for a P965 Express motherboard. It's great to see how well these mainstream motherboards overclock these days.
Inside The P965 Platinum's BIOS: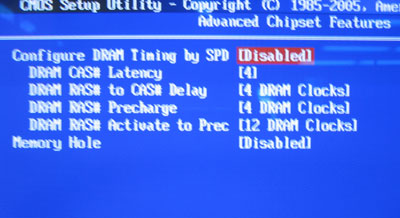 MSI provides only basic memory timing adjustment options in the P965 Platinum BIOS. A bit of a surprise really, MSI usually has more overclocking flair. In any case these are the major options that affect system performance when used correctly.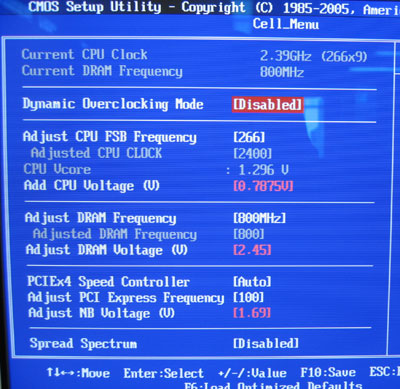 The FSB can be adjusted between 266-550 MHz in 1 MHz increments, and the CPU voltage goes as high as 0.795V above stock values. Note don't set your CPU voltage that high unless you have really good cooling! There are many memory frequency adjustments from DDR2-400 to DDR2-1066 levels, and memory voltage can be adjusted to 2.45V. Northbridge voltage goes as high as 1.69V, but make sure you have some good system cooling before attempting anything that risky.
Next up are the benchmarks; will the MSI P965 Platinum kick show its mettle?
Prelude to Benchmarks
The details of how the MSI P965 Platinum motherboard test system was configured for benchmarking, including the specific hardware, software drivers, operating system and benchmark versions are indicated below. In the second column are the general specs for the reference platforms this Intel P965 Express based system is to be compared against. Please take a moment to look over PCSTATS test system configurations before moving on to the individual benchmark results.

PCSTATS Test System Configurations