The Albatron KI51PV-754 motherboard in detail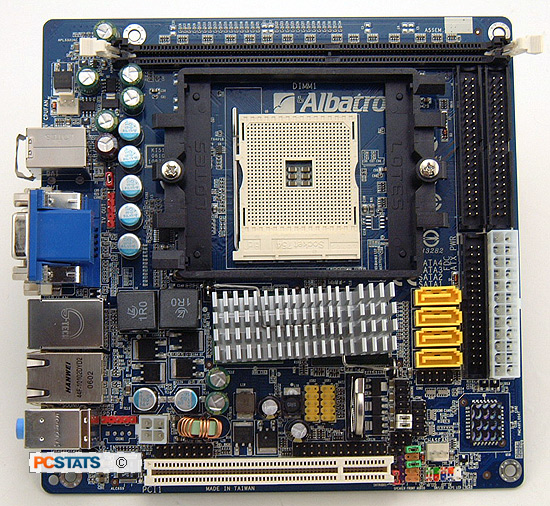 The entire Albatron KI51PV-754 motherboard is 170x170mm in size. The GeForce 6150 Northbridge and nForce 430 MCP Southbridge chipsets are side by side under one passively cooled heatsink. To the right of the chipsets are four Serial ATA II jacks, the FDD, two IDE and 24-pin ATX power connector. Along the lower edge of this Mini-ITX board is the single PCI slot, auxiliary 4-pin power connector, and a half dozen other headers. The one DDR memory slot is located just above the 754-pin AMD Athlon64 processor socket. It supports up to 1GB of non-ECC DDR memory. The majority of power circuitry is supported by solid state capacitors.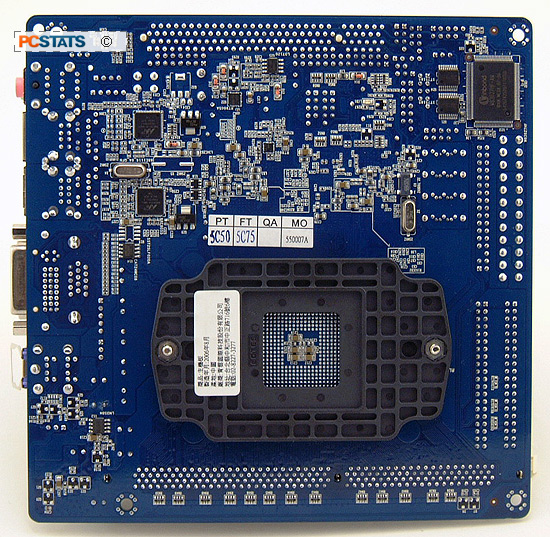 On the back of the Albatron KI51PV-754 mini-ITX board we find a few components like the Marvell 88E8056 Gigabit and Marvell 88E8036 10/100 network PHYs, the Winbond W83627HF-AW Hardware monitor IC and the CPU retention plate. The KI51PV-754 is compatible with standard motherboard tray support pin locations.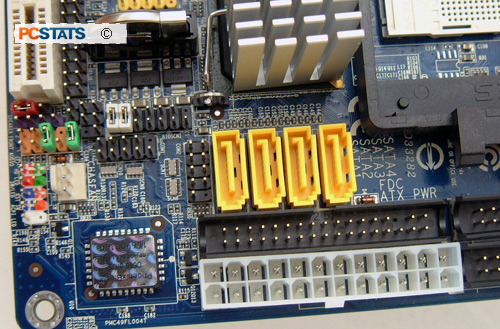 The bottom right hand corner of the Albatron KI51PV-754 mini-ITX board is very busy.... The big white connector is the 24-pin ATX power connector, just above that is the floppy drive connector and easily identifiable are the four yellow 3GB/s Serial ATA II ports. To the left of the Serial ATA II Ports are two COM port headers. Left of the double stacked white jumper is the black IrDA header, the orange one is for front panel audio connections.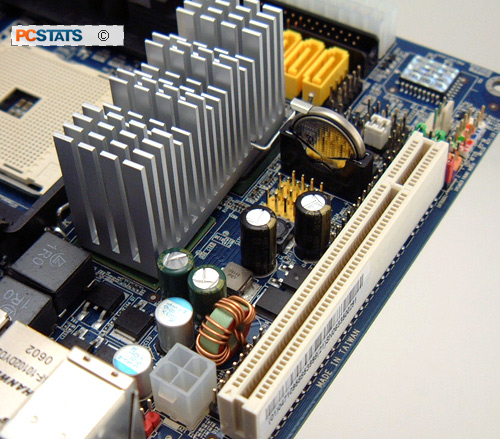 It's important to plug the four pin ATX12V connector in, if you don't the system will not POST. There's a 32-bit PCI slot for expansion purposes, but I doubt it will be used unless there is a really specific expansion card needed for the system - say like wireless LAN or a multi video signal input card for security cameras. The partially visible red header next to the ATX12V connector is for SPDIF input/output. Above the PCI slot are the RS232 and parallel printer port headers, two USB2.0 headers and motherboard 3.5v battery.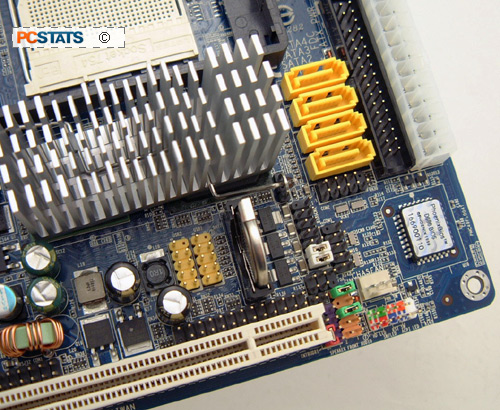 Just above the white 32 bit PCI slot near the middle is the Parallel port connector. The Albatron KI51PV-754 does not come with any expansion brackets to take advantage of any of these headers, but the pin outs are universal. The connector on the very left also just above the PCI slot is a RS232 header connector for business applications. The two yellow headers next to the CMOS battery are USB 2.0 headers. Note how the passive chipset heatsink straddles each core logic.
SEARCH PCSTATS

---

Use the power of Google to search all of PCSTATS and the PCSTATS Forums. Tell us what you think of this new feature - FEEDBACK?