Abstract: The ECS G33T-M2 motherboard is based on Intel's news integrated graphics chipset, the G33 Express, and like the Intel P35 Express makes an awesome duo when paired with a dual core Intel Core 2 Duo processor.


78% Rating:

Home > Reviews > Motherboards > ECS G33T-M2
The Intel GMA X3100 Videocard
The Intel G33 Express chipset supports an onboard videocard, the Graphics Media Accelerator X3100. On paper the graphics card is as impressive as any other integrated solution out there. The GMA X3100 supports graphics standards DirectX 9.0C (which includes Shader Model 3.0) as well as OpenGL 1.5. This means the videocard is Windows Vista compatible and will be able to run Microsoft's Aeroglass feature.
The Intel GMA X3100 supports analog, digital and HDMI output although it's up to the manufacturer to include this on the motherboard, ECS simply equips the G33T-M2 with a single analog video output. If you want to turn a machine using the Intel GMA X3100 into a HTPC, the videocard also supports Intel's Clear Video acceleration which support deinterlacing and colour control.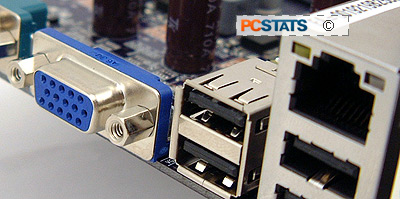 The Intel GMA X3100 has a maximum resolution of 2048x1536 at a refresh rate of 75 Hz. It supports analog, DVI, HDMI, Composite, S-Video and component output. As suggested the GMA X3100 works with both standard and High Definition displays (max 1080p) and support COPP/PMP with HDCP content protection.
It's important to note that the Intel GMA X3100 videocard is very driver dependant. The latest driver version on Intel's website, 15.4.3, fully supports all of the GMA X3100's graphical features and there are even rumors (unofficial of course) that future driver updates will add DirectX 10 support. Certainly interesting but remember it's onboard video so you can't let your expectations get too high with respect to 3D gaming...
High Definition Content Playback: System Load Test
High definition content is on the verge of mass release and you might as well find out if the new parts are up to snuff so to say. With both Intel and AMD pushing the idea of the 'digital home' like no tomorrow, it's time to find out whether the systems of today, like the ECS G33T-M2 motherboard, are ready for the high definition content of tomorrow.
Intel is following ATi and nVIDIA's lead when it comes to integrating high definition video accelerators onto its graphics chipsets, but at least it is making an effort. These accelerators dramatically reduce CPU usage when high definition content is being played, and enable the computer to do other tasks. From Up and Down Scaling of video content to High Definition Content Decode, Intel's "Stunning Video Playback" suite of technologies looks like it may rival ATi's 'AVIVO' and nVIDIA's 'PureVideo' in terms of high definition content acceleration.
CPU Load with Intel's 'Stunning Video Playback'
To test the high definition video playing capabilities on the ECS G33T-M2 motherboard, and specifically its Intel X3100 onboard videocard via the Intel G33 Express chipset, we'll playback a video downloaded from Microsoft's WMV HD Content Showcase through Windows Media Player 10. "The Discoverers" (IMAX) video is available in both 720P and 1080P formats. The Core 2 Duo E6600 processor utilization during playback will be monitored via Task Manager.

When running the 720P version of the Discoverers video CPU usage remains at a minimum which is good to see. Intel has certainly caught up with ATi and nVIDIA when it comes to High Definition acceleration.

CPU usage results are still good when running the 1080P version of the video. There are plenty of resources for the rest of the system. Next, a quick look around the motherboard itself.