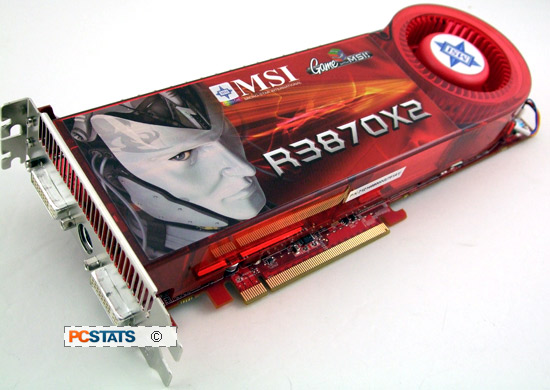 With the release of the R770 and ATI/AMD's 48xx line of video cards, prices on the 38xx line have dropped considerably, making the once prohibitively expensive HD 3870 X2 dual-GPU graphics card affordable for the sightly more wealthy than average gamer.
While six months removed from the newest generation of ATI/AMD video cards, the MSI R3870X2-T2D1G-OC still makes a hefty case for itself as a pure gaming video card. In the majority of PCSTATS gaming benchmarks it outpaced and outclassed all of its contemporaries, and we feel it would have scored better still if not for some driver issues on a couple of benchmarks. This is a big card in all senses of the word and requires a big case and a big power supply to encompass its needs.
MSI's packaging for the R3870X2-T2D1G-OC is more than sufficient on the hardware front, including every adaptor you could ever need to take advantage of the card's capabilities. We would have liked to see more (or even some) free software bundled with this product though. The lack of a blu-ray/HD/DVD playback program is especially glaring.
Perhaps because of its twin-GPU configuration, the MSI R3870X2-T2D1G-OC wasn't able to achieve much in the overclocking area, either in GPU or memory overclocking. On the other hand, the card comes pre-overclocked to a generous 860MHz, 35Mhz over stock. As with the HD 4870 X2 cards we have tested, this video card is intended to game well 'Out of The Box'.
So where does this leave you? Well, if you can find the MSI R3870X2-T2D1G-OC videocard for a steal it's worth considering, otherwise PCSTATS thinks you'llbe better served by putting your pennies into the Radeon HD 4850 or Radeon HD 4870 X2 graphics cards. Alternatively, if you already have a MSI HD 3870 X2 videocard purring away under the hood, the benefits of running a Crossfire'd pair of them is immediately obvious.
Find out about this and many other reviews by joining the Weekly PCstats.com Newsletter today! Catch all of PCSTATS latest reviews right here.
Related Articles
Here are a few other articles that you might enjoy as well...
- Palit Radeon HD 4870 X2 Videocard Review
- Asus EN9600GT Top/HTDI/512M Geforce 9600GT Videocard Review
- Foxconn 9600GT-512NOC Geforce 9600GT Videocard Review
- Palit Geforce 8800GT Super+ 1GB Videocard Review
- Biostar V903GT52-NV1AN 512MB Geforce 9600GT Videocard Review
- Palit 9600GT Sonic 512MB Geforce 9600GT Videocard Review