The SATA hard drive installs in the MB664US unit and connects with a hot swappable SATA data/power jack fixed at the rear.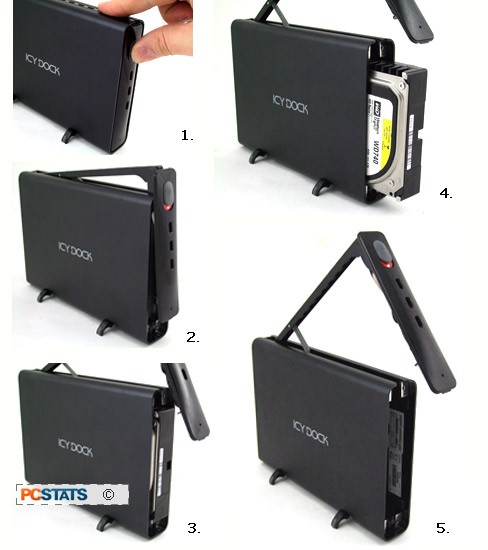 So long as you are running Windows XP or Vista, and the removable hard drive caddy does not contain your operating system, the PC will react pretty sensibly to the immediate removal or insertion of a hard drive. It's best practice to go to "removable devices" in the control panel and "stop" the hard drive before pulling it out of a running computer, or data loss may occur. This step ensures data integrity while the latter is a little like playing russian roulette with your data. SATA is inherently hot swappable so it won't affect the drive.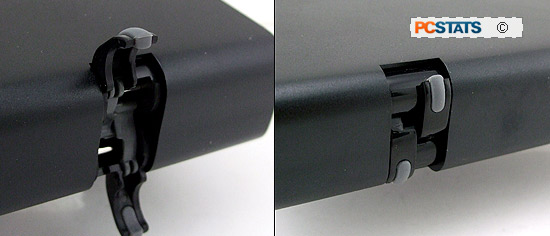 The general build quality of the Icy Dock MB664US is nice, we particularly like the little rubber feet which fold up into the unit when not needed. The aluminum chassis is jet black and should hold up to little bumps well enough. The front bay door is plastic and does feel kind of cheap, but the mechanism behind it which supports the drive and ensures it is seated fully is metal.
eSATA Device Support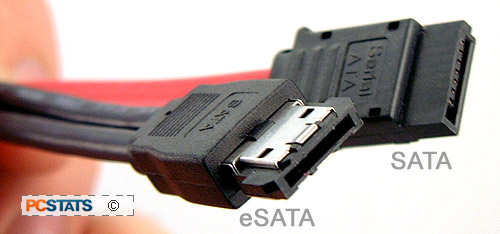 External Serial ATA support is easily the most exciting feature to pop on motherboards of recent. When it comes to external mass storage, bandwidth has always been, and will always be an issue. USB 2.0 (480 Mbps) and IEEE 1394a/b (400/800 Mbps) offer better alternatives than past connections like Serial and Parallel ports but they are still slow compared to dedicated hard drive channels.
With the emergence of Serial ATA, external storage took a huge step forward. Serial ATA is an affordable solution (as opposed to SCSI) that offers speeds at well past USB or IEEE 1394 levels. Serial ATA generation I has up to 1.5Gbps worth of bandwidth and Serial ATA generation II doubles that bandwidth to 3Gbps. Serial ATA makes even IEEE 1394b's 800Mbps bandwidth look paltry by comparison.
Standard internal Serial ATA cables are sufficient for internal connections, but SATA-IO governing body decided a while back that the external version should be somewhat different, thus creating the eSATA standard. The eSATA cable that accompanies the Icy Dock MB664US is the eSATA I ('eye' not 'one') type connector (of the two pictured, it is the left one). There are also eSATA L connectors floating around, so we'd advise you to double check what type of connector end is on any kind of cables you might pick up.
The great thing about eSATA enclosures is that hard drives connected over this standard are just as fast as internal SATA devices. The connectors are hot swappable, so it makes adding and removing an external hard drive about as complex as clipping in a USB memory key.