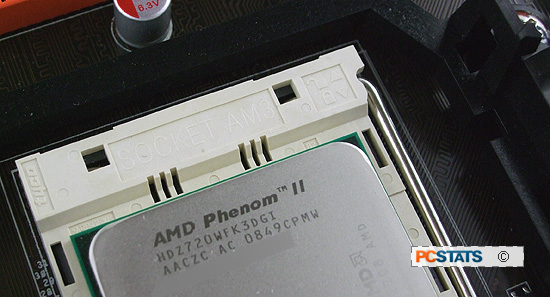 Since the Asus' M4A78T-E and M3A78-T motherboards are so similar that they can be a little difficult to tell apart. PCSTATS has tried to highlight some of the differences between the two of them for you throughout this review to make it easier to plan out what goes into your next AMD computer system.
In terms of features and support, the Asus M4A78T-E motherboard uses DDR3 memory at speeds of 1066/1333MHz, or 1600MHz when overclocking, and can hold up to 16GB of RAM when running in a 64-bit operating environment.
Only socket AM3 AMD processors can be used with this motherboard.
Performance wise, the DDR3-based Asus M4A78T-E platform handled slightly better in benchmarks designed to stress the processor, where its high frequency DDR3 memory supplies the CPU with data quicker. However in tasks more timing-intensive, as seen in some of Sisoft Sandra's memory benchmarks, high latency DDR3 memory looses its edge compared to low latency DDR2.
When paired with a discrete graphics card, the performance of the Asus M4A78T-E motherboard in 3D gaming was slightly less than that of the Asus M3A78-T. The rest of what you're getting with the ASUS M4A78T-E is the same as what comes on the M3A78-T board, and that's a very extensive feature set
A pair of PCI Express 2.0 x16 slots that can do CrossfireX in x8 mode, four slots for DDR3 memory, five SATA II ports as well as eSATA and Firewire, half-a-dozen USB ports as well Analog VGA, DVI and HDMI video output. Combine that with the Radeon HD 3300's IGP performance and the Asus M4A78T-E motherboard has plenty of features and options to recommend it to users searching out an integrated graphics platform for the new socket AM3 Phenom II processor family.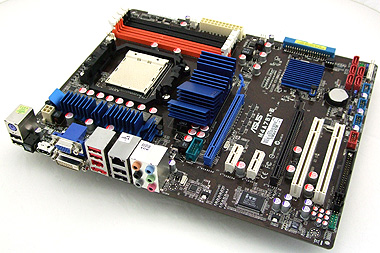 Retailing for about $191 CDN ($150 USD, $120 GBP), the ASUS M4A78T-E is priced at a slight premium over the similiarly equipped DDR-2 based ASUS M3A78-T motherboard. Now in this review we've purposefully benchmarked the M4A78T-E platform at DDR3-1066 speeds to compare it to the DDR2-1066 environment of the ASUS M3A78-T, and as you can see the impact of DDR3 is a mute subject. Bumping the DDR3 to 1333MHz will improve benchmark results about 2-3%, as you would expect.
So once more we're faced with a choice between a motherboard that is future-proof, and one that offers the same feature set and slightly less performance but with lower overall memory costs.
For example: 4GB of DDR3-1066MHz memory costs about $115, while 4GB of lower latency 1066MHz DDR2 memory can be found for as low as $65. Overall that's about $70 more for a platform that has largely the same features - and sure the DDR3 memory will give increased performance with faster memory, but that will also cost you more money. A socket AM3 Phenom II processor can be used with either of these motherboards, and as the benchmarks indicate there's very little performance difference between the two platforms when memory speeds are identical.
So what the heck is the answer?
If you aren't planning to use the Radeon HD 3300 IGP for 3D gaming (which you shouldn't, it's not very good for gaming), consider picking up a DDR2-based AMD 780G motherboard for your AMD Phenom II CPU instead. Application performance will be just as quick, but the board will be a few bucks less and memory won't set you back as much as DDR3 will.
Currently, AMD's socket AM3 Phenom II processors don't see much improvement with DDR3 memory. Once faster Phenom II processors come out for socket AM3, higher clock speeds may start becoming bottlenecked by DDR2's limited bandwidth and lower frequencies. If on the other hand you're looking towards the long term and have decided DDR3 is the best route to follow for your intended application, the ASUS M4A78T-E is a worthy motherboard to consider.
Find out about this and many other reviews by joining the Weekly PCstats.com Newsletter today! Catch all of PCSTATS latest reviews right here.
Related Articles
Here are a few other articles that you might enjoy as well...
- ASUS Striker II NSE nVidia nForce 790i SLI Motherboard Review
- ASUS M3A78-T AMD 790GX Socket AM2+ Motherboard Review
- ASUS P5E3 Premium/Wifi-AP.N Motherboard Review
- Gigabyte GA-X48-DS5 Intel X48 Express Motherboard Review
- Asus P5Q-EM Intel G45 Express Motherboard Review
- Biostar TPower N750 nForce 750a Motherboard Review
- Gigabyte GA-EP45-DQ6 Intel P45 Express Motherboard Review