Nero's CD Speed burn tests a DVD+R DL rated at 2.4x. The program emulates a burn that would fill the disc with 8.5GB of data. This test is done by simply placing blank recording media into the burner and running CD Speed the software.
Nero CD Speed: DVD+R DL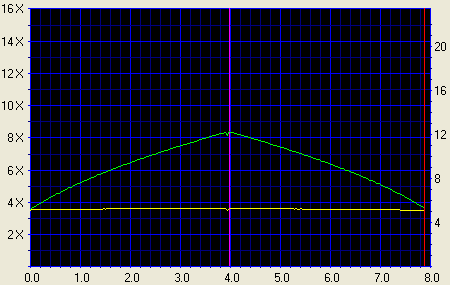 DVD+R DL
Nero CD Speed: DVD+R DL Benchmark Results

Optical Drive

ASUS BC-1205PT

Lite-on eHAU424

Lite-On iHAS424

AOpen DSW1812P

LG-GSA462N

Samsung WriteMaster SE-W164

Gigabyte GO-W1616A

MSI DRI6-B

LG GSA-4120B

Media
DVD+R DL
DVD+R DL
DVD+R DL
DVD+R DL
DVD+R DL
DVD+R DL
DVD+R DL
DVD+R DL
DVD+R DL
Media Write Speed:
2.4x
2.4x
2.4x
2.4x
2.4x
2.4x
2.4x
2.4x
2.4x
Avg Speed:
6.32x
6.11x
6.20x
9.25x
9.21x
6.23x
4.3x
2.4
2.4
Start Speed:
3.52x
4.5x
3.44x
5.04x
5.13x
3.46x
2.4x
2.39
2.4
End Speed:
8.43x
10.1x
8.26x
12.35x
12.3x
8.31x
5.74x
2.4x
2.4x
Type
CAV
CAV
CAV
CAV
CAV
CLV
CAV
CLV
CLV
The eHAU424 is average when it comes to DL media.
Conclusions: A worthy external drive?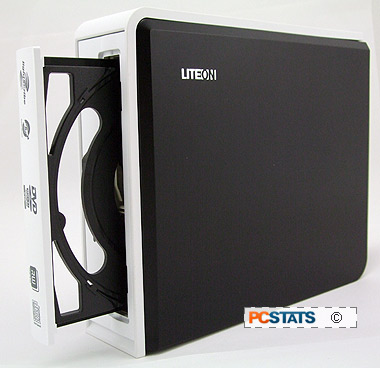 Although some computer users have started ditching optical disc storage in favor of storing information on the ever-increasing capacities of USB keys and Solid State Drives (SSD), the old CD and DVD formats aren't going anywhere fast. If you feel that it is time to take the plunge and go with a netbook or optical-less desktop PC, you're at risk of losing access to a lot of media.
Fortunately with external drives like the LiteON eHAU424 you can enjoy the small footprint of a netbook while maintaining the ability to read and write to the most popular optical storage formats. The external eHAU424 unit supports DVD+, DVD-, DVD-DL, CD-R and CDRW and a few other optical formats over the convenience of a USB2.0 cable.
In the optical drive benchmarks the performance of the LiteOn eHAU424 was quite good for an external optical drive. It kept up with the other internal drives on the PCSTATS test bench, and in operation the drive remained relatively quiet and didn't stutter, hitch or buffer under-run (thanks to an on-board 2MB buffer).
LiteON's eHAU424 comes with a one year parts/labor warranty which is about average for an optical drive. For the most part external optical drives can last for years if they're well cared for.
With a price of $50 CDN ($45 USD, £30 GBP) the LiteOn eHAU424 is an easy means of augmenting an optical-drive-deficient netbook, notebook or a home PC. It's not much of a monetary investment, but having a DVD-burner which is portable and always at hand can save a lot of hassle.
Find out about this and many other reviews by joining the Weekly PCstats.com Newsletter today! Catch all of PCSTATS latest reviews right here.
Related Articles
Here are a few other articles that you might enjoy as well...
- LiteON iHAS424 Dual-Layer DVD Writer Review
- Plextor PX-B310U External PX-B310U Blu-Ray USB DVD Writer Review
- ASUS BC-1205PT-BD Blu-Ray Dual Layer SATA DVD Burner Review
- LG GSA-H62N SATA Dual Layer DVD-Writer Review
- AOpen DSW1812P 18x Triple Format DVD Rewriter Review
- Samsung WriteMaster SE-W164 16x16x External DVD Writer Review
- Gigabyte GO-W1616A DVD Burner Review