The ASUS EAH5770 CuCore/2DI/1GD5/A videocard might just hit that wonderful sweet spot where price and performance balance perfectly... you know, when time itself becomes fluid and games run smooth at wide resolutions with all the fancy new graphics eyecandy options enabled.


80% Rating:

Home > Reviews > Video Cards > ASUS EAH5770 CuCore/2DI/1GD5/A
Overclocking past 900MHz GPU?

Overclocking Results:
ASUS ship the EAH5770 CuCore/2DI/1GD5/A videocard with its ATI Radeon HD 5770 GPU running at 850MHz, the 1024MB of onboard GDDR5 memory runs at 1200MHz.
As always, PCSTATS overclocked the videocard through ATI's Catalyst Control Center using ATI Overdrive. The fan was set to run at 100% from the start and PCSTATS started with the GPU first, pausing to test the results with a quick 3D benchmark before continuing. We take note of any stability problems or artifacts, then list the maximum stable and artifact-free overclocked speed the videocard achieves.
We'll be using ASUS' P5E3 Premium Intel X48 motherboard for these overclocking tests, along with a nice set of Patriot DDR3-1866 low latency memory modules.
Given the ease in which most mainstream ATI Radeon videocards overclock, we cut to the chase and separately overclocked the memory and GPU as far as they would go. The Radeon HD 5770 overclocked to 910MHz GPU and the memory to 1325MHz.
When both memory and GPU were overclocked together 3DMark06 crashed with the GPU running at 925MHz, so we dropped speeds down to a maximum overclock of 910MHz GPU / 1325MHz memory and called it a day.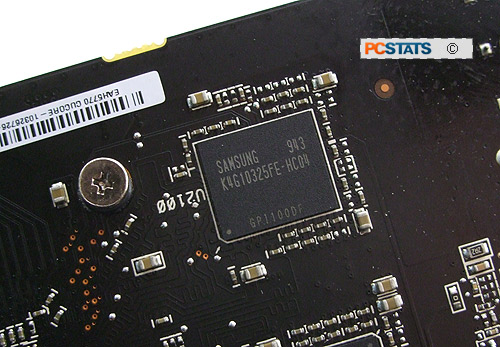 Prelude to Benchmarks
The details of how the ASUS EAH5770 CuCore/2DI/1GD5/A videocard was configured for benchmarking; the specific hardware, software drivers, operating system and benchmark versions are indicated below. All benchmarks for the videocard were run in Windows 7 Ultimate, the reference video cards were tested in both Windows XP and Vista for the DX10 benchmarks.
PCSTATS is in the process of making the transition to a Windows 7 and Intel CPU test platform, so keep this in mind as you scan the benchmark results. In the second column are the general specs this videocard is compared against.

PCSTATS Test System Configurations
Benchmark results are organized by GPU manufacturer first (AMD/ATI or nVidia), then by GPU generation, and then by GPU class (high end, mainstream, value). This approach provides a clearer view of how performance can differ from generation to generation, and class to previous generation. The product being tested is marked with the red colour bar.