The Seasonic X-760 power supply supports over voltage, over power and short circuit protection in order to protect you, the power supply and the PC system from damage. The X-760 is designed to operate in temperatures between 0-50 degrees Celsius and in relative humidity between 20-80%. Removing the top cover voids the warranty. The 120mm Sanyo fan is detachable and can be replaced. The PSU fuse is not user replaceable.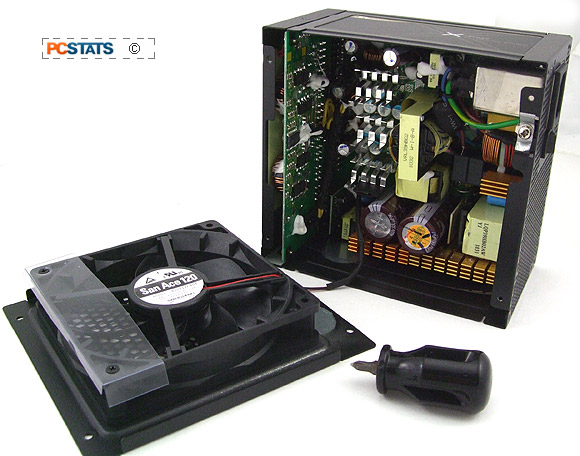 The first thing that's immediately obvious upon opening Seasonic's 80 Plus Gold rated X-760 power supply is the almost total lack of internal wiring. This puppy is just cleanly laid out, with plenty of space between components for good airflow. The circuit boards are all dual layer PCB and Seasonic are using solid state conductive polymer aluminum capacitors (silver with blue marking) and Japanese made 105C rated electrolytic caps for the power filter (larger, brown wrapping).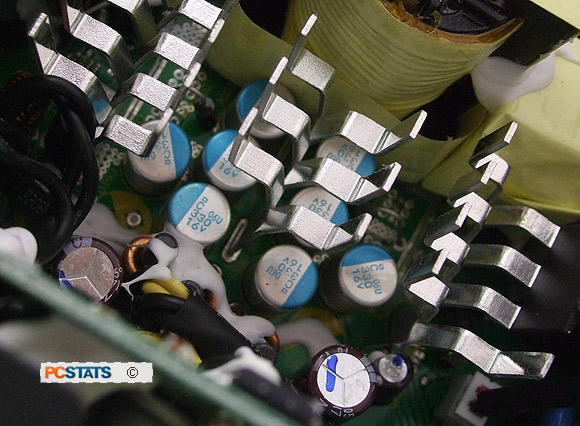 Another interesting innovation with the Seasonic X-760 power supply is this little circuit board pictured below. It's the 3.3V / 5V DC-to-DC converter and modular cable connector. Basically this circuit board takes the main DC supply and breaks it off to the different voltage levels required by the various power cables that hook up to the motherboard. The black components you see here are MOSFETs, and they form part of the power supply voltage regulator.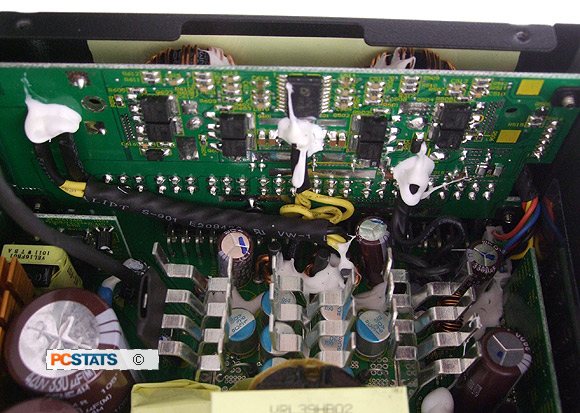 In previous power supplies PCSTATS has tested, the only function of this board was to break out the cable bundle from the main power supply circuit into the modular cable connectors. Seasonic have clearly engineered this PSU from the ground up; the modular cable connector daughtercard (pictured above) is fully integrated into the whole power supply design.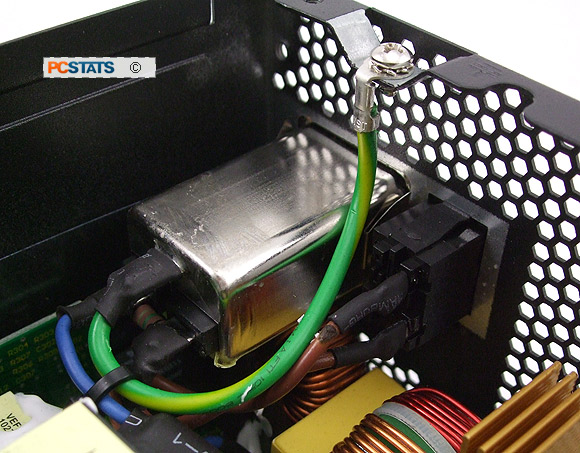 A good rule of thumb for spotting a well made power supply? An RF shielded main 120V power socket and RF chokes (round things with copper wire wrapped around them). Power load tests are up next.