At the rear of the NexStar HX external chassis is a hard power switch, USB 3.0 and eSATA data slots, the DC power connector and a small fan control switch.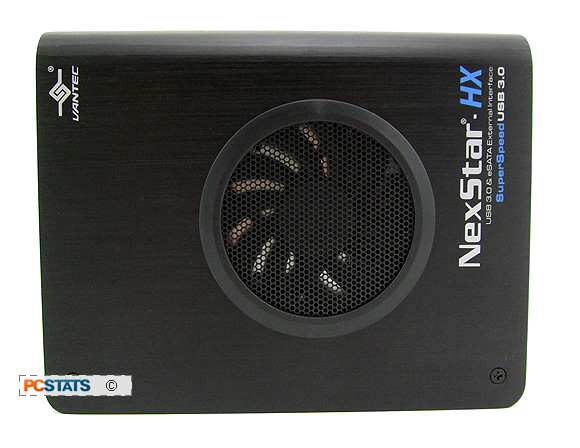 The front has an 80mm fan embedded into it for keeping hard drive temperatures in check. Air is exhausted out the side of the NexStar HX chassis. This fan can be controlled by the small switch at the back of the unit. If you don't need it, just turn it off.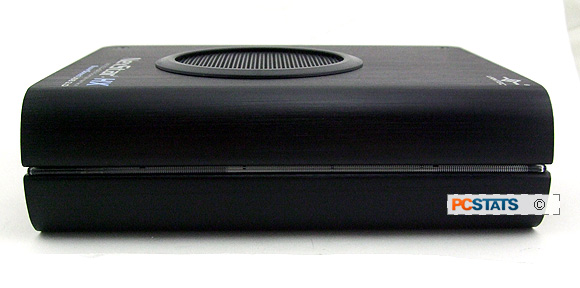 Front edge showing the LED strip light which indicates drive status when on.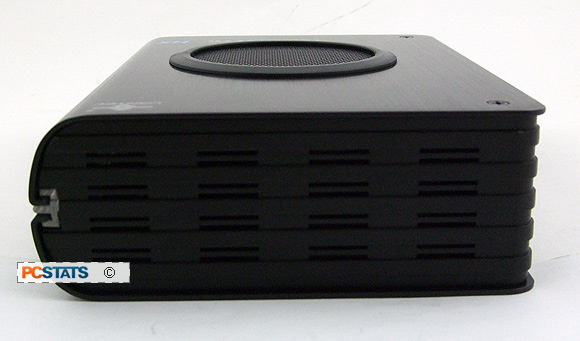 Top of the Vantec NexStar HX which has air vents.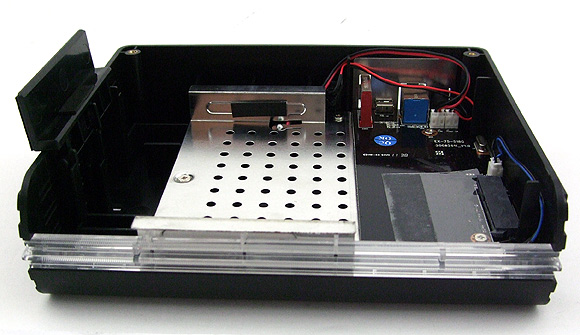 The SATA hard drive installs into the NexStar HX unit and connects with a hot swappable SATA data/power jack fixed at the rear.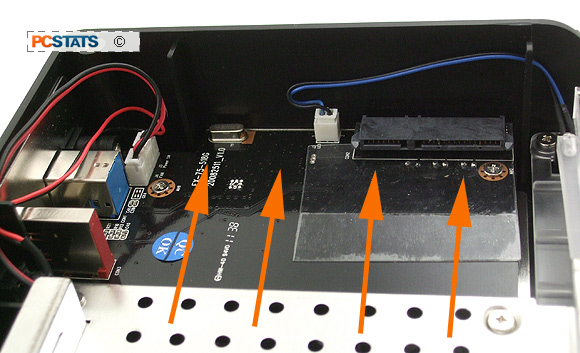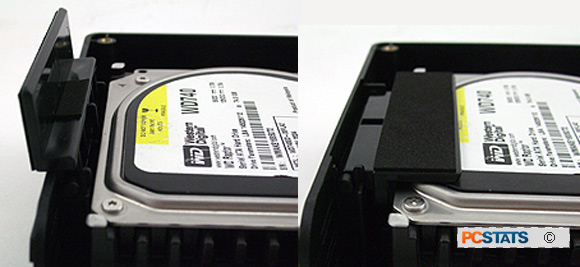 The NexStar HX is powered by an AC brick adaptor and comes with a 1 meter USB 3.0 and eSATA cable. The unit must be plugged in to operate, neither eSATA nor USB 3.0 cables deliver power to support a 3.5" hard drive.
In Use
If you're running Windows 7 or Vista, the PC will react pretty sensibly to NexStar HX drive enclosure. It's best practice to go to "removable devices" in the control panel and "stop" the hard drive before turning off the power to the unit or unplugging a data cable, or data loss may occur.
The general build quality of the Vantec NexStar HX is nice, we particularly like the aluminum panels that should hold up to little bumps well enough.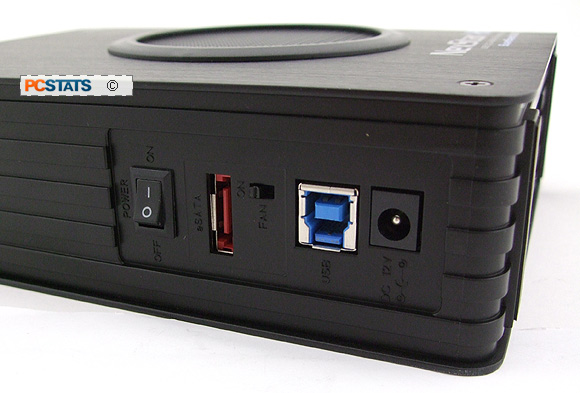 PCSTATS isn't going to benchmark a SATA hard drive in the Vantec NexStar HX because serial ATA devices like this do not have any significant impact on data transfer speeds. In terms of USB 3.0, transfer speeds will be limited by the drive speed.
Quick, Simple, Easy External Storage
The Vantec NexStar HX looks good, works with USB 3.0 data connections or eSATA and supports a single 3.5" SATA hard drive without the need to crack open your computer case. What's not to like about that?
Connecting the external hard drive up to a desktop computer is as easy as plugging in the Vantec NexStar HX's power cord and connecting the appropriate data cable.
With a retail price of $40 CDN ($40 USD / £25GBP), the Vantec NexStar HX is a straight forward device which allows anyone to add a substantial amount of external storage to their desktop PC.
Data transfer speeds on the eSATA cable are just as fast as internal SATA drives, with USB 3.0 it's never been quicker to move a massive amount of data off to an external drive - this is the biggest attraction in our eyes. The Vantec NexStar HX NST-330SU3 is a simple and versatile approach to anyone's burgeoning storage needs, recommended.
Find out about this and many other reviews by joining the Weekly PCstats.com Newsletter today! Catch all of PCSTATS latest reviews right here.
Related Articles
Here are a few other articles that you might enjoy as well...
- Western Digital 1TB WD RE4 Enterprise Hard Drive Review
- Beginners Guide: Intel Smart Response Technology and Intel 311 Larson Creek SSD
- IcyDock MB994SP-4SB-1 Four-bay 2.5-inch SATA Hard Drive Rack
- 500GB Seagate FreeAgent GoFlex Ultra-Portable Hard Drive Review
- IcyDock MB994SP-4S Four-bay 2.5-inch SATA/SAS Hard Drive Rack Review
- Seagate 3TB Barracuda XT 6Gb/s SATA III Hard Drive Review