CrystalDiskMark Benchmark
Source:AS SSD
CrystalDiskMark is a drive benchmark tool which conducts a series of Sequential, 512K and 4K read and write tests.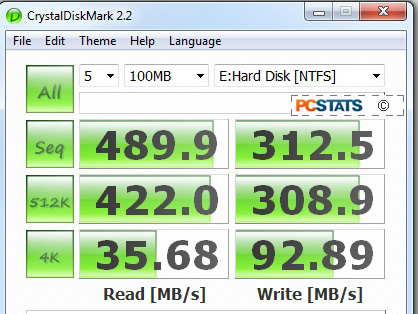 100MB test
The OCZ Vertex 3 240GB SSD scores 489MB/s in the 100MB Sequential Read test, 312.5MB/s in the Write test of CrystalDiskMark. Next up, AS SSD results...
AS SSD 1.6 Benchmark
Source:AS SSD
The AS SSD benchmark determines the performance of Solid State Drives (SSD). AS SSD benchmark is made specifically to test SSD performance. It is a synthetic benchmark that gauges bandwidth and latency speeds for solid state disks. Higher bandwidth (MB/s) is better, lower latencies (ms) are better.
The OCZ Vertex 3 240GB SSD achieves a score of 506.4MB/s Read and 288.8MB/s Write in the Sequential test of AS SSD. These results are quite competitive against the SanDisk Extreme SSD PCSTATS recently tested, as you can see from the chart above. The SATA II Plextor SSD is significantly out gunned.
Next up, HD Tune.