Too much choice in the SSD segment has made selecting the perfect SSD for a gaming PC or notebook upgrade a rather daunting and at times Excel-spreadsheet-worthy task. It shouldn't have to be like this. As we've seen in PCSTATS' benchmarks today, Crucial's M4 SSD delivers great read/write speeds - up to 510MB/s Read and 284MB write in Crystaldiskmark - and is priced at a reasonable $210 USD/CDN for 256GB of solid state storage.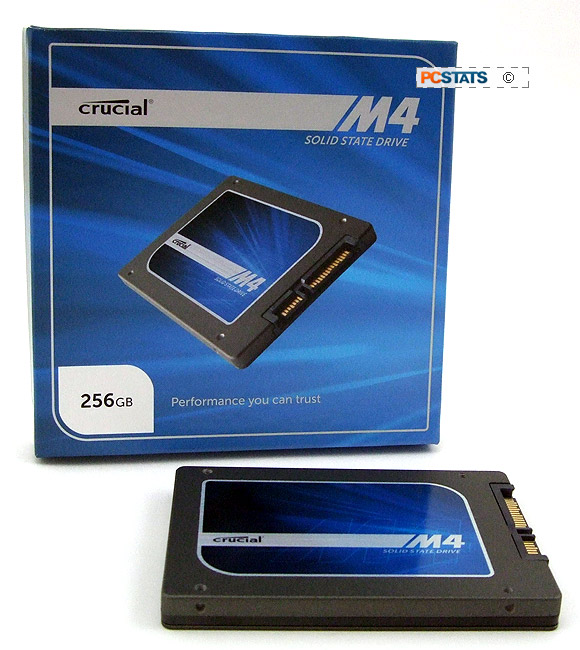 Outwardly, all SSDs look pretty much the same. When considering different SATA III drives, the key is to focus on 1) the type of NAND flash used and 2) SSD controller chip; these two components make or break a solid state drive's performance.
As PCSTATS has shown, Crucial's 256GB M4 SATA III SSD utilizes 25nm MLC NAND flash by Micron and the Marvell 88SS9174-BLD2 controller - an industry standard.
Beyond these nuanced aspects, the other compelling factor at play is Crucial's legendary RMA support should you encounter a problem. In a business environment, vendor support is key to running a smooth IT department, something fly by night computer wholesalers don't generally offer.
So where does the 2.5" Crucial CT256M4SSD2 SSD stand with respect to competing 6gb/s Serial ATA III solid state drives? Well, compared directly to the 240GB OCZ Vertex 3 and SanDisk Extreme 240GB SSD, Crucial's M4 SSD slots in nearly dead center between the two... in terms of speed and price. The M4 is quick, only a hair behind the forerunner in virtually every benchmark PCSTATS threw its way.
Electrically, the Crucial M4 is also quiet - we did not detect any excessive high frequency noise coming from the SSD during testing. By comparison, SanDisk's Extreme SSD lets out a loud "SSD noise" of around 14KHz, perhaps, we don't have a tool to correctly measure sound frequency. In any case, it's high pitched and it gets annoying in a open desktop benchmarking platform.
To recap, Crucial's 2.5" 256GB M4 SSD operates on a SATA III interface, measures 9.5mm thick so it will fit in most notebooks and it costs about about $0.82 per GB which is competitive. The Crucial M4 SSD is covered by a 3 year warranty and rated for 1.2M hours MTBF. The SSD has enough storage capacity for either desktop or portable computing systems, but unfortunately doesn't come with a 3.5" desktop adaptor bracket like the OCZ SSDs tend to.