1000Mhz Benchmark Comments:
The benchmark results all seem to say the same thing, this CPU is very fast! At 1.0GHz multi-tasking is a breeze, and mundane and strenuous CPU chores all flow quite nicely. DVD's are smooth and glitch free, even if I am running Quake III in the background to test system stability... However, just because it's a 1Ghz processor, it doesn't mean that it's safe from my overclocking!
Overclocking:
Overclocking a CPU is pretty much the only interesting part of CPU reviews these days. However, overclocking a "high-end" CPU tends to disappoint overclockers that are accustomed to getting a 20% or better increase in MHz-prowess.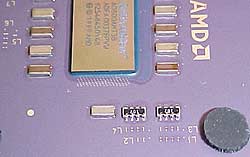 As mentioned in previous reviews of the duron 700 , and athlon 800 , overclocking to insane speeds with the athlon t-bird will more than likely require clock multiplier adjustments. this is partially due to the limitations of the via kt133 chipset that restricts fsb overclocking to a rather limiting 110mhz arena.
so how does one go about raising the clock multiplier?
first of all, i haven't seen a single Athlon or Duron processor in the last few months that had the L1 bridges intact. The L1 bridges have been cut by a laser, but don't fret, they can be reconnected with a simple pencil. The pencil trick is reasonably simple, nonetheless the bridges are tiny, and great care must be taken whence connecting them with the conductive pencil lead. I suggest using a very fine pencil tip, or a .5mm mechanical pencil. Just pencil the bridges back and forth a few times, and that should provide enough conductivity to unlock the power of your processor.
After successfully connecting the L1 bridges, the clock multipliers can now be accessed and modified within the BIOS or via jumpers if the BIOS on your motherboard doesn't support clock multiplier adjustments.
Since the fastest Athlon that is 'easy' to locate is the 1.1Ghz model, the first goal was to duplicate that speed. Luckily, this 1Ghz CPU made the jump to 1.1Ghz quite easily. The voltage was left alone at 1.75V, and 1.1Ghz was stable enough to benchmark.