DVD-RW is one of the two rewriteable formats approved by the DVD-forum (the other being DVD-RAM). DVD-RW is the only one that is compatible with most DVD players and drives, being that DVD-RW supports single-sided 4.7GB disks. The disks are constructed with a method very similar to CD-RW media, using a compound that changes form from clear crystal to amorphous and non-transparent when heated to a certain degree. The write laser of the DVD-RW drive heats minute areas of the compound to form a non-reflective surface, or a digital '0.'
By using a different intensity, the laser can revert the whole surface back to the crystalline form, erasing the disk. DVD-RW disks are intended to be useable through up to one thousand write/erase cycles. DVD-RW drives are generally capable of writing to standard CD-R and RW media.
DVD+RW is the newest recordable DVD standard, created by the DVD+RW Alliance, a spin-off from the DVD-Forum and including companies such as Dell, HP, Sony, Yamaha, Ricoh and Phillips. This standard directly competes with DVD-R/RW. Being a newer standard, it offers a few technical advantages and features that DVD-RW is not capable of.
DVD+RW disks do not have to be fully erased to be reused, but can be selectively erased instead. DVD+RW also allows editing of a disk's contents after it has been 'finalized' since it is capable of rewriting the links between data sectors on the disk which are severed by editing. DVD+RW drives are available in 4.7GB sizes and are currently faster than their DVD-R/RW counterparts, maxing out at 4X write speed, or a little over a half hour for a full disk. DVD+RW drives are capable of writing to standard CD-R and RW media also.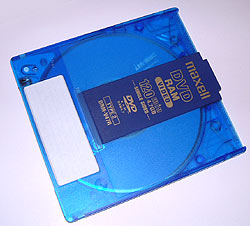 The DVD-RAM format is the black sheep of the DVD family. Put forward by the DVD-Forum as the first rewriteable DVD standard, it differs from the various other formats in that it is intended first and foremost as a data-storage method, not a means of storing media for playback from multiple sources. DVD-RAM drives are only available as computer peripherals mostly.
DVD-RAM drives are capable of Random writes, meaning that files can be added and removed from a DVD-RAM disk as if it were an additional hard drive, without the need to sequentially add files until the disk is full, or to specify certain sections or the whole disk to be erased.
As a backup device, DVD-RAM drives are the most transparent to the user, meaning they appear as just another disk to drag and drop files to. The drawback of this is compatibility.
DVD-RAM disks are encased in a plastic cartridge, making them incapable of being read by other DVD drives. The cartridge can be removed, at which point the remaining disk is physically identical to other DVD media, and may actually be readable in some drives and players. Unfortunately, once the cartridge has been removed the first time, future writing to the disk is unpredictable.
Essentially, you need a DVD-RAM drive to access DVD-RAM disks. This means that the format is essentially restricted to use as a means of backing up data. Of all the current formats, this is the one most likely to die out soon in the PC environment. DVD-RAM has seen good adoption as the digital equivalent of a VCR, so it may migrate completely to the realm of the hometheatre I suspect.