Winstone Performance

For this benchmark, Winstone 99 and Content Creation Winstone 2000 have been used to test the overall performance of the test bed setup. Winstone 99 (Business Winstone 99) v1.2 is used to test the overall business performance of the computer system by using applications such as MS Office 97, Lotus Smartsuite 97, etc. Content Creation Winstone 2000 is a system-level, application-based benchmark that measures a PC's overall performance when running today's Windows-based Internet content creation applications. The test focuses on top-selling Internet content creation applications.

Each test was run 3 times with the result being the average value of the 3 test runs. Higher numbers indicate better performance.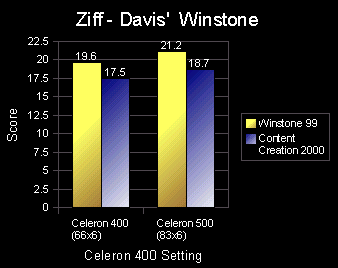 These performance figures are certainly good for the given hardware setup. Performance wise, this board should not be a problem.

Overclocking and Stability

As the CPU used in this review was a Celeron 400, there isn't much one can do in terms of overclocking the CPU. As it is the multiplier, which is locked on all Intel processors now, is quite high on the Celeron (6x). So running it at default rate of 400Mhz would be at a 66Mhz front side bus speed.
I was able to go all the way up to an 83Mhz FSB speed which results in a 500Mhz overclock. At this speed, the system was very stable. At a 100Mhz bus speed, which would result in a 600Mhz overclock, I could not even get to the POST. There are 6 1000uf capacitors around the Socket 370 interface and only 5 1000uf capacitors are in the Slot 1 vicinity. Most motherboard manufacturers include at LEAST 6-7 1500uf capacitors instead of the 1000uf capacitors used in this case. It is certainly pretty surprising that the system was stable at 83Mhz despite the low number of low rated capacitors. And that too the stock Intel fan/heatsink combo was used.

There is an option to change the voltage but it is quite limited. By default, the jumpers are set to auto-detect CPU Vcore voltage in the range of 1.3V-2.05. You can change it so that the range will be 1.3V-3.5V. Of course, this will make no difference as the voltage is always set to auto-detect. The only type of "voltage bumping" you can do is through another jumper which increases the Vcore voltage by 0.05V. And nothing more than that.