Chaintech's GOSU (Graphics Overclocking System Utility) is one of the most powerful bundled overclockers we have ever played with. Unlike some overclocking programs from other venders, GOSU is actually extremely powerful, allowing the end user to push their videocard as hard as they wish!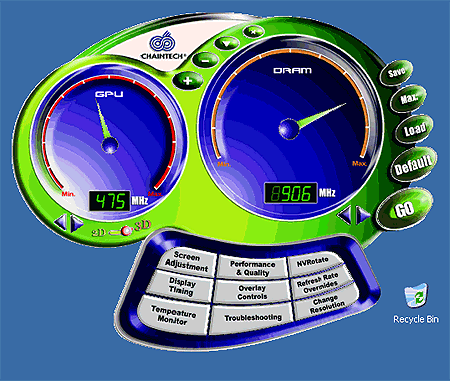 Under the first analog display on the left there is the 2D/3D slider; make sure you set that to 3D before you start overclocking. Once that's done, Chaintech's GOSU will display the default clock speed of the videocard (475/906) and you can begin to overclock the videocard from there...
The tool also allows you to raise the core and memory frequencies independently of each other, but they only move in 1 MHz increments when you click the appropriate blue directional triangle.
Unfortunately, you'll need to click the triangle for every MHz; so for instance to raise the core speed from stock to 550MHz you'll need to press the left mouse button seventy five times! Hopefully newer versions of Chaintech's GOSU will allow you to simply click and hold, or click and drag the slider to where you want it
Overclocking the Chaintech Apogee AA5700U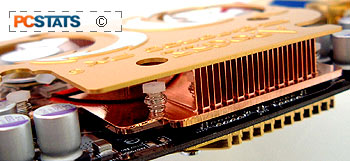 It seems nVIDIA built a lot of headroom into the GeForceFX 5700U core, as the ones we've played with recently have all been good overclockers. As usual we began overclocking the GeForceFX 5700U core of the Chaintech AA5700U first, immediately raising its clock speed to 500 MHz. The AA5700U did that without even breaking a sweat, and after we increased the clock speed to 550 MHz, it was able to reach a max of 567 MHz before visual artifacts started to appear! Not too shabby considering we're using Chaintech's stock air cooling!
The Chaintech Apogee AA5700U uses 2.2ns Samsung BGA DDR2 memory (K4N26323AE-GC22 ) which we hoped would break the 1 GHz barrier. Going up slowly from the stock 906 MHz clock speed we easily broke our 1 GHz goal, and in the end topped off at 1.05 GHz. Very nice indeed!
Curiously, the core and memory on the AA5700U we tested did not work as well overclocked together, so we were forced to lower the core overclock from 567 MHz to 550 MHz in order to get the core and memory to function properly together. For the upcoming benchmarks the card was clocked at 550/1050 MHz for all tests.

PCStats Test System Specs:
processor:

intel pentium 4 3.0c

clock speed:
15 x 200 mhz = 3.0 ghz
motherboards:

gigabyte 8knxp, i875p

videocard:

ati radeon 9800xt
ati radeon 9800 pro
ati radeon 9700 pro
asus radeon 9600xt
msi fx5950 ultra-vtd256
msi fx5900u-vtd256
msi fx5900xt-vtd128
gigabyte gv-nv57u128d
chaintech apogee aa5700u

memory:

2x 256mb corsair twinx 3200ll

hard drive:
40gb wd special ed
cdrom:
nec 52x cd-rom
powersupply:
vantec stealth 470w
software setup

windowsxp build 2600
intel inf 5.02.1012
catalyst 3.9
detonator 53.03

workstation benchmarks

3dmark2001se
codecreatures
aquamark
aquamark3
gun metal 2
x2 the threat
ut2003

aa test, af and aa+af test
3dmark2001se
x2 the threat
ut2003