The Samsung proved capable of consistently duplicating data CD's at the 8X setting.
Most of the time however the data is stored on the hard drive and this is where Easy CD Creator comes in quite handy. The program is essentially an industry standard for CD-Burning of Audio and Data CD's. Generally, a lower setting should be used for burning audio CD's, especially if the data is coming off an adjacent compact disc.
| | |
| --- | --- |
| | front |
| | rear |
| The SW212 has an audio jack and volume wheel on the front of the drive, but lacks a "play" button found on most CD-ROM drives. It connects to the computer via an included IDE cable. | |
In our tests burning data CD's directly off the hard drive, the 12x setting was extremely reliable, with only 1 out of about 10 being junked because of errors. While burning MP3 files from the hard drive to audio tracks on the CD-R we found the 8X burn rate to be the most reliable. We only tested the CDRW features with data, and in those instances, the 8X burn rate was consistently reliable. The positive aspect of working with CDRW's is that if an error develops they can usually be formatted and rewritten.
The formatting did take about 20min to complete on the thorough setting though.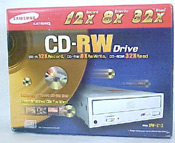 All said, we were very satisfied with the reliability of the Samsung SW212 for burning CDR's and CDRW's. I would recommend placing the burner in the top-most bay in the case as it does generate a lot of heat during use. After a few recording sessions it was comparable to the temperature of a 7200 RPM hard drive. Since there is no fan in the rear of the drive it is best to position it where there is a bit of space around it (if possible).
Finally, the inclusion of not only the Adaptec Easy CD Creator software and the audio / IDE cable was appreciated, but also the CDR and CDRW disks. It's nice to see a complete package that let's get going from the beginning.