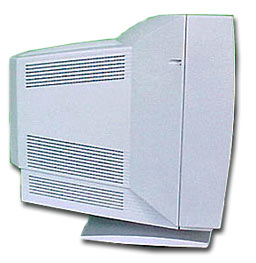 Geometry: The display has good geometry, the only imperfections we can see are a slight curvature on the top right hand side of the display. Otherwise all lines in the grid are nice and perpendicular.
Brightness / Contrast: Again, contrast is good. The monitor displays 1%-9% black very well, and 20%-100% white in even gradations.
High Voltage: Excellent stability of both the horizontal and vertical trace lines.
Colours: All colours were displayed with excellent brightness and vibrance. We were pleasantly surprised by how well colour was represented by this display.
Convergence: The convergence was excellent in the corners of the display, as it is in the central region. There was no separation of colour from any of the test grids that we could see.
Focus: Focus is very good, there was some slight distortion shown in the closely spaced vertical parallel lines located on the outer edges of the display. This is partially expected from a large CRT display and not too significant to the user.
Resolution: Again, there is a slight distortion on vertical closely spaced lines in each of the corners. The horizontal lines maintain excellent separation and definition throughout the entire display.
Moire: The CM810 demonstrated excellent characteristics when tested at 1600x1200 resolution, but for almost all other lower resolutions a halo or blooming effect was visible on the display.
Readability: As with just about every CRT display the readability at the center of the display is perfect, while the readability at the very corners is very good, but not as sharp.
Jitter: None visible at all.
The Hitachi CM810 supports a fairly conservative range of lower resolutions and a nice wide birth of larger settings. The full list of manufacture supported resolutions and frequencies are listed below:
Display Resolutions:
Resolution
Freq Hor.
Freq Ver.
Standard
640x480
31.5kHz
70Hz
VGA
800x600
53.7kHz
85Hz
SVGA
832x624
49.7kHz
75Hz
MAC
1024x768
68.7kHz
85Hz
XGA
1152x870
68.9kHz
75Hz
MAC
1280x1024
91.1kHz
85Hz
XGA
1600x1200
106.25kHz
85Hz
XGA
1600x1200
112.0kHz
90Hz
XGA