Crucial's Gizmo is a 256MB USB hard drive packed into a 3" x 1" x 0.5" package. Where a Smart Media card stuck in the back pocket would probably snap in half if sat on, the Crucial Gizmo is tough enough to take the beating. Toss it in a bag, throw it in with your pens, whatever - the Crucial Gizmo will come out shining... or at least wrapped in a giant dust bunny.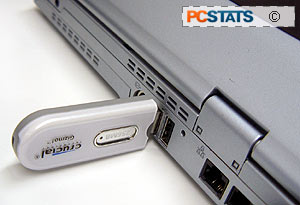 I've used a few other types of USB hard drives in the past, and realistically speaking there isn't too much of a difference between units when it comes to file transfer speeds and such. For example, we timed how long it took to move a 94MB file from the computer to the Crucial Gizmo, and then back. The upstream time to transfer the file was about 120 seconds, and the downstream time just under 106 seconds. In otherworld, upstream speeds hovered around 780KB/s, and downstream about 886 KB/s. A quick test with Sandra 2003 illustrates similar read and write speeds into the Gizmo's solid state memory.
Sandra 2003 Benchmark Breakdown:
Buffered Read : 908 kB/s
Sequential Read : 909 kB/s
Random Read : 905 kB/s
Buffered Write : 751 kB/s
Sequential Write : 854 kB/s
Random Write : 747 kB/s
As I was saying, I've used a few other types of USB hard drives in the past, and the real difference with them and the Crucial Gizmo is the package size. If you're using a computer and the USB hard drive is too large to fit snugly next to the jack for an existing USB mouse or keyboard it loses some of its usefulness.
As you can see by the photo above, the Gizmo is compact enough for it to be installed side by side with other USB devices, and that simply makes it a heck of lot more useful as far as I consider. It's a small point to raise, but once you discover you have start pulling out USB devices just to plug in a USB hard drive things can get rather frustrating.
True, USB hard drives always come with a USB extension cable (a three foot long cable is included here incidently), but I prefer not to have to carry it around. In any case, bundle in Crucial's well known service standards, a nice 256MB storage capability, and a compact, clean and useful package, and the Crucial Gizmo is one device the office junkie should never be without. If you spend a lot of time moving large files back and forth between computers at home, at school, the office, or in the field, a USB hard drive quickly proves itself an indispensible device!
Find out about this and many other reviews by joining the Weekly PCstats.com Newsletter today!