Ok, here are the test system spec's...
Test System Specs:
Test Memory:
256MB TwinMOS PC2100 (PC2700) CL2.5 7.5ns DDRAM
256MB Micron PC2100 CL2.5 DDRAM
128MB Micron PC2100 CL2.5 DDRAM
Computer:
T-Bird 1 GHz AVIA Y at around 1.33 GHz.
Iwill KA266 Latest ALi Drivers
MSI StarForce 822 (GeForce 3 200/460)
30 GB IBM DeskStar 75 GXP
SB Live! Platinum 5.1
Software:
Windows 98 SE
DirectX 8.1 Beta
Detonator 12.90
Benchmarks:
SiSoft Sandra 2001 SE
Quake III Arena 1.17
3DMark 2001
Let's take a look at the differences between the pure power of the memory under normal operating conditions and then overclocked to the maximum possible with the KA266. While the motherboard is limiting the testing to 146MHz FSB, we should still be able to see some impact on system performance between the three different sized/brands of memory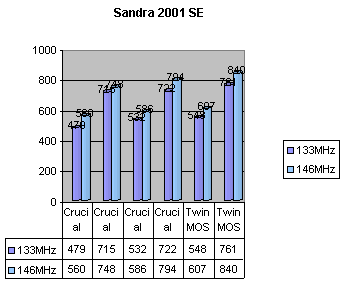 At 133 MHz, the benchmark memorybandwidth isn't great, there is a noticeable gap between the TwinMOS and 2 sticks of PC2100 Crucial memory. With TwinMOS in the lead position for both the 133MHz and 146MHz tests it's easy to see where the rest of the benchmarks are going to lead. The TwinMOS memory simply leaves the Crucial in it's dust!
The TwinMOS memory simply leaves the Crucial in it's dust! At 146MHz the TwinMOS DDR memory simply shines, outperforming the Crucial by about a 11% (FPU) and 7.7% (ALU) respectively.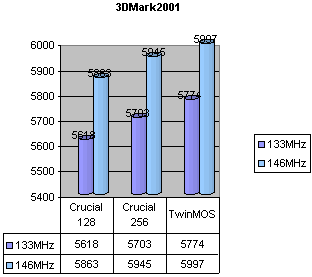 Running 3DMark 2001 simply reinforces what Sandra had to say. The Crucial memory simply doesn't put up much competition for the TwinMOS memory! The 128 MB stick just ends up eating everyone's dust, while the 256 Crucial stick trys in vain to keep up with the TwinMOS. However, it's just too slow!

At 146MHz, the TwinMOS memory is about 2.2% ahead. Next up we have a round of Quake III benchmarks to check out the effects this memory on good ol' FPS.