Samsung SW-216 - Data Tests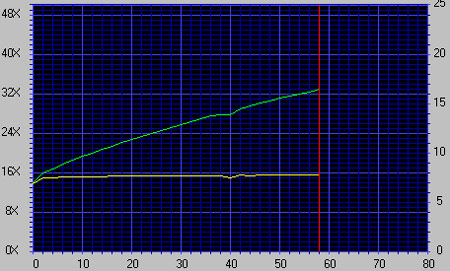 Nero CD Speed 99 - Data Benchmarks
DVD Drive
SW-216
Disk Type
Data
Avg Speed
24.94x
Random Seek Time
94ms
1/3 Seek Time
112ms
Full Seek Time
192ms
DAE Quality
-
CPU use: 1X
1%
CPU use: 2X
2%
CPU use: 4X
5%
CPU use: 8X
9%
Burst Rate
-
Disk Eject Time
1.19
Disk Load Time:
1.14
During the CD-Speed data transfer tests, the CPU usage remained very low, not moving up past 9%, which is quite good. Disk eject and load times are very quick, but it did take about 5 seconds for the disk to be recognized in the drive itself. As with just about every CD-ROM, the actual average speed is always lower than the listed rate.
The drive was very quiet while in operation.
CDROM Audio Benchmarks
Samsung SW-216 - Audio Tests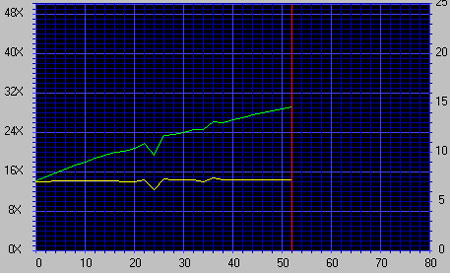 Nero CD Speed 99 - Audio Benchmarks
DVD Drive
SW-216
Disk Type
Audio
Avg Speed
22.32x
Random Seek Time
97ms
1/3 Seek Time
98ms
Full Seek Time
163ms
DAE Quality
10
CPU use: 1X
2%
CPU use: 2X
4%
CPU use: 4X
7%
CPU use: 8X
13%
Burst Rate
-
Disk Eject Time
1.18
Disk Load Time:
1.14
Audio benchmarks are in line with the data ones, although CPU usage does jump up to 13%.
Burn Testing
Insofar as CDRW discs are concerned, the SW-216 was able to format a test disc (maximum setting) in 38 minutes. Burn time for the CDRW was slow because Nero forced a defaulted to 2X burn, which took 38 minutes to complete as well. At least with Just Link enabled there were no buffer underrun errors to contend with.
Since we're traditionally accustomed to burning CD-R's at a lower than normal speed to avoid the dreaded "buffer underrun error" that turns good media into coasters we tried the first burn session at 12X. The time to burn one full disc at this speed was 6 minutes, and in that time we experienced the buffer underrun error once (the SW-216 was burning away as we continued to do a bunch of work on the computer). Thankfully Just Link was activated and essentially paused the burning until things were good to go, resuming the burn and saving our disc from be wasted. Thus the disc was written successfully, and despite the error, the disc was not made into a coaster.
What is Just Link you ask? Well since most of you are undoubtedly familiar with Burn Proof technology, Just Link is basically the same thing. It prevents errors from mucking up burning sessions by enabling the software to simply pause and resume when the flow of data is back up to speed.
Conclusions
All in all the Samsung SW-216 is a very good drive, and with the equivalent of BurnProof thrown in is now on par with many of today's current drive technologies. In the past it used to be a game of russian roulette when we set about burning a CD-R. Sometimes things would work out fine, and other times the computer, or a setting would cause the dreaded Buffer Underrun Error and junk the disc. New technologies have advanced to prevent this from happening, and consumers should really be aware of them while shopping out new CD-R drives.
An older model may be less expensive, but without technologies like JustLink and BurnProof you are really setting yourself up for a lot of aggravation. After all, not all computers are the pillars of stability that we hope they are, so it makes good sense for your burner to be as robust as possible. Given our experience with the SW-216, we would easily recommend it to you.