The Comanche 4 benchmark demo is a unique benchmark as it represents a real-world gaming experience. It contains the single player "Eagle's Talon" mission from the game as well as a detailed cinematic. This DirectX 8.1 benchmark demo will measure your system's performance in the standard frames per second format. The benchmark was run with audio disabled.
Comanche 4 640x480 Benchmark Results
Motherboard
FPS
Ranking

ABIT KV8-MAX3

65.77

ABIT KV8-MAX3 (223/446)
73.03
Comanche 4 is pretty much a system benchmark and here the ABIT KV8-MAX3 does very well!
A completely rewritten 3D engine based on DirectX8 encompasses many visual effects such as volumetric Nebulae (gas clouds) that have a real impact in the game (you can hide in them), many new engine, shield, weapon and explosion effects. Objects cast real dynamic 3D shadows! Dynamic DP3 bump mapping allows a previously unseen level of detail.
X2: The Threat Benchmark Results 640x480-32bit
Motherboard
FPS
Ranking
ABIT KV8-MAX3
131.222
ABIT KV8-MAX3 (223/446)
143.331
X2: The Threat does not get as bit a performance boost as we expect, still those are some nice framerates.
Unreal Tournament 2003

Source: Epic
Unreal Tournament 2003 is the sequel to 1999's multiple 'Game of the Year' award winner. It uses the very latest Unreal Engine technology - where graphics, sound and game play are taken beyond the bleeding edge. Unreal Tournament 2003 employs the use of Vertex as well as Pixel Shaders and it's recommended that you use a DirectX 8 videocard to get the most out of the game.
UT2003 - 640x480
Flyby
FPS
Ranking
MSI K8T Neo
299.5

Albatron K8X800 Pro II

300.96

Soltek SL-K8AN-RL

295.62

ABIT KV8-MAX3

300.25

ABIT KV8-MAX3 (223/446)
341.32
Botmatch
FPS
Ranking
MSI K8T Neo
94.07

Albatron K8X800 Pro II

94.87

Soltek SL-K8AN-RL

93.86

ABIT KV8-MAX3

94.12

ABIT KV8-MAX3 (223/446)
106.41
The Athlon64 has always done well in UT2003, that should be pretty obvious by looking at the framerates. The ABIT KV8-MAX3 gets a very nice performance boost when overclocked.
Another great board!
ABIT are one of the few manufacturers that openly embrace the enthusiast community, and the ABIT KV8-MAX3 is a fine example of ABIT engineering. ABIT include a whole host of hardware goodies from rounded IDE/Floppy drive cables to their exclusive Secure IDE hardware encryption, IEEE 1394a and an additional four port Serial ATA/Serial ATA RAID controller.
µGuru is certainly a very innovative and powerful system tweaker. It's nice to have a protected mode this way newbie/novice overclockers will not damage any of their hardware. Secure IDE is also a handy feature should you need total data privacy, but I'd be hesitant to actually use it without some form of data backup elsewhere.
Performance of the ABIT KV8-MAX3 motherboard was very good but that's to be expected from an Athlon64 based system. In all the tests the ABIT KV8-MAX3 constantly fought for top spot among all the stock systems, and the was a decent overclocker too.
If you're thinking about putting together a new socket 754 Athlon64 rig, make sure you check out the ABIT KV8-MAX3 motherboard. I'm positive it'll keep you happy no matter what you do!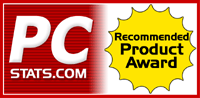 Find out about this and many other reviews by joining the Weekly PCstats.com Newsletter today!

Related Articles

Here are a few other articles that you might enjoy as well...

2.