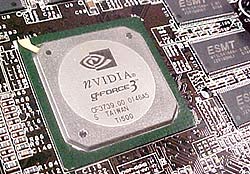 The Asus V8200Ti500 Pure like all other Ti500's is an amazing videocard. Teamed up with a fast system, it'll pump out frame rates that have yet to be rivalled.
As mentioned earlier, the V8200Ti500 doesn't use the boring reference design, instead Asus uses one PCB layout for both their Pure and Deluxe model videocards. This doesn't seem to affect performance since the Asus card is as fast as our reference MSI GeForce3 Ti500 in every single benchmark we ran.
The one biggest problem issue we saw with the V82000Ti500 was the lack of thermal compound/tape between the memory and ramsinks. Unlike earlier generation cards (other then the GeForce2 Ultra) ramsinks were more gimmicky then anything else, GeForce3's generally do require them since the TSOP-II memory chips do get hot and even a thermal pad would help heat transfer.
As for overclocking, our Asus V8200Ti500 Pure was up to the task. Hitting highs never seen before in our labs (for stock cards anyway) of 280/600. It even allowed us to break the 10k barrier in 3DMark2001!
In every other benchmark, we were CPU limited till extreme resolutions such as 1600x1200 and at those settings, overclocking added almost another 10-15%!
Asus has done well with their V8200Ti500 Pure, it's everything a hard core gamer would want, pure speed and performance with no B.S. However, with speculation abounding about the release this spring of the new GeForce4, gamers and enthusiasts who are considering buying a GeForce3 Ti500 should really wait it out. Once that GPU hits the store shelves the prices of all the GeForce 3 Ti500 cards definitely fall in price. When that happens, and if you do decide to get one, Asus V8200Ti500 is one sweet videocard!
Be sure to tell us what you think of the Asus V8200Ti500, and Asus in general. Come to the forums and let us know what you think about it.