The answer to the above question is governed by a few factors. First of all, if you already have a computer that you do not intend to significantly upgrade, you are limited to the type of memory that your current motherboard supports. The chipset of a motherboard is the collection of chips and circuits that allow the components of your computer to work together, and is tied to a specific kind of memory, SDRAM, DDR-SDRAM or RDRAM.
As a general rule, to add x amount of memory to your system, you need a single memory module of that size, of the same type and speed that your system currently uses (note that type does not mean the brand of the memory, but rather whether it is SDRAM, DDR or RDRAM). This information should be easily attained from your motherboard manual. There are of course exceptions to this rule.
Here are some common ones....
In theory, any system that uses SDRAM can use memory that is rated faster than the requirements of the motherboard, as well as memory of the correct speed. For example, an older Intel Celeron system would use a 66Mhz clock speed, and thus would require PC66 SDRAM, but could also make use of PC100 and PC133 SDRAM, which it would simply access at 66Mhz. Note that this is not necessarily possible in the real world, as voltages and other factors have changed since SDRAM was introduced, and it is a good idea to stick with the recommended memory, but it is possible.
Some recent chipsets support more than one type of memory, generally SDRAM and DDR-SDRAM. Consult your motherboard manual for information on this one, but note that if your board does support this, you cannot mix both types. Some DDR and RDRAM chipsets use dual-channel memory, meaning that two separate memory modules on the motherboard are accessed at the same time, doubling the maximum memory bandwidth. This requires that the memory be installed in identical pairs on the board, rather than single modules as is generally the case. Again, consult your manual.
Also, you will need to verify that you have space on your motherboard to install more memory. Since we are going to tell you how to actually install it later in the article, the easiest way to do this is to open up the computer and physically check how many open memory slots you have.
Regardless of the type of memory you use, they will look more or less like this.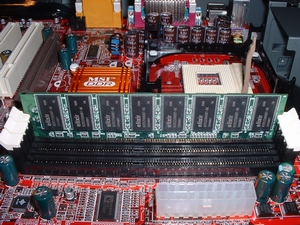 If you are planning on purchasing a new system, your choice of memory is going to be governed by the type of processor you select. PCStats has several excellent articles on the newest processor and memory combinations to help you research. Keep in mind that, as with all other computer components, the price is governed by the relative newness and availability of the memory.
Right now, DDR2100 and PC133 SDRAM are the cheapest and easiest to find, but since both Intel and AMD are using higher rated DDR-SDRAM for their newest processors, this will change soon. It does seem that DDR-SDRAM of PC3200 speed and above is going to be the memory of choice for the near future anyhow, as both Intel and AMD are using it for their next generation 64bit processors.