Thermal Protection for the AMD processor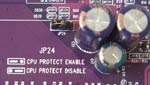 The absolute best feature on the Soltek SL-75DRV5 motherboard is ABSII. The board monitors the processor core temperature from an internal diode on the AthlonXP/Duron (Morgan core). With their ABSII (Anti-Burn Shield II) engaged you should never have another dead XP or Morgan based Duron processor.
And no, I didn't test this out - I'm not feeling that adventurous with our test Athlon XP 2100+ today!
Looking at the temperature values reported in the BIOS, they're about 10 degrees higher then on any other board we've used at idle. It just goes to show you that an idle temp of 55 degrees celsius based on the internal die temperature is more accurate than an externally mounted thermistor.
Around the Socket: Heatsink Clearances
PCStats Heatsink Clearance Measurements
Top Clearance:
12 mm
Bottom (cam) Clearance:
7 mm
Left Side (arm) Clearance:
28 mm
Right Side Clearance
26 mm
Socket Mounting Holes:
4mm Ødia.
Max. Heatsink Base Dimensions:
~80x108 mm

Note: Approx. measurements are made from the edge of the socket (not the clips) to the closest obstacle taller than the ZIF socket itself.

The socket is 51mm across, and 62mm from top to bottom.
I'd like to congratulate Soltek for a job well done in terms of heatsink clearances. This has got to be the roomiest socket interfaces we've seen in quite a while on a motherboard. You should have no problem installing even the largest of heatsinks! The Swiftech MC462A could be installed and still have a lot of room left over! Good job Soltek!
SEARCH PCSTATS

---

Use the power of Google to search all of PCSTATS and the PCSTATS Forums. Tell us what you think of this new feature - FEEDBACK?