Abstract: With the era of the KT333 chipset and consequently DDR333 upon us in full swing it leaves one wondering what to really make of it all.


83% Rating:

Home > Reviews > Motherboards > Soltek SL-75DRV5
Soltek SL-75DRV5 KT333CE Motherboard Review
---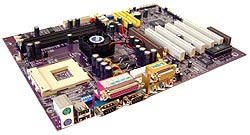 With the era of the KT333 chipset and consequently DDR333 upon us in full swing it leaves one wondering what to really make of it all. The numbers 333 are being uttered with almost as much fervor as XP is. Has 333 just become another meaningless marketing adjective, or is it really a sign of wondrous things to come?
Unlike previous chipset advances, the first experience we have had with the KT333 chipset on MSI's KT3 Ultra-ARU (chocked full of many features in its own right) is less than that of expectation. With the onslaught of KT333-based motherboards was around the corner would a second look at the KT333 chipset impress us a little more?
The Soltek SL-75DRV5 has the rather pretty purple PCB which contrasts the slew of black and red which seem to predominate the industry as more and more motherboard manufacturers are trying to identify themselves by the colour of their PCB. With a retail price hovering around $150 CDN, this is easily one of the least expensive KT333 based motherboards available to consumers.
soltek sl-75drv5

Ships with the following:

IDE ATA66/100 Cable
FDD Cable
Driver CD
User Manual
Quick Start Guide
Thermal sensor
USB Header bracket
The SL-75DRV5 has a pretty clean layout, with a 4x AGP slot and five 32bit PCI slots there should be ample room for expansion cards. The CNR is located at the bottom of the board so it remains out of the way.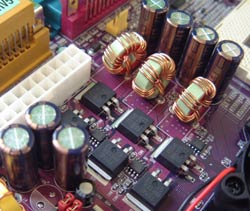 The three 184-pin DIMM slots accept up to 3GB of non-ECC PC1600/PC2100/PC2700 DDR RAM. I don't particularly like to see the ATX power connector behind the game ports, but I do realize that it is there for a reason so the power regulators on the motherboard get a cleaner power signal.
The SL-75DRV5 comes with onboard audio using VIA's AC'97 software codec. While you guys know it's something I don't personally like, it's understandable from Soltek's point of view. The placement of the IDE connectors really irked me quite a bit because the IDE ribbon cables could interfere with the videocard. During testing we had to wrap the IDE cable around the videocard which caused quite a hot spot! You shouldn't have a problem placing full length PCI cards in PCI slots two through five.
Still, all is not lost, you can easily cool almost any component on the Soltek because it comes with no less then five fan headers! Yes, that is not a typo, there are five fan headers, and all are easily accessible or in ideal locations (such as under the AGP slot for a videocard). Incidently, the video card does not need to be removed should you want to add or remove system memory.
Minor memory issues
The SL-75DRV5 didn't seem to like it when all three DIMM slots were occupied. With three 256MB PC2100 DIMM's, the boards stability was so-so at best, able to pass office based benchmarks. In 3D benchmarks it would often crash back to desktop.
If you look at the board closely, you'll see two set of dip switches, the ones closer to the CPU socket are for multiplier adjustment and the ones near the IDE ports are for FSB. It is possible to adjust the FSB in the BIOS itself, however the multiplier controls are strictly left to dip switches which is a royal pain in overclocking adventures.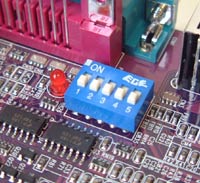 Yet another piece of evidence that AMD is going to move its CPU FSB up to 166 MHz, the SL-75DRV5 has a diagram on the PCB showing a 166 MHz FSB! Unfortunately that option didn't work, selecting a CPU FSB of 166 MHz got us only 133 MHz FSB. AGP and DRAM voltage can be adjusted but again, it's through jumpers only.