The testing of the ISB Pro800 Turbo was done in the PCStats labs, but as we are not rich enough to warrant dual internet connections in the lab we tried something else. We set up a network using static IP's and plugged two ethernet cables into the two ports of the ISB Pro800 Turbo. Each port was assigned a different IP address essentially making the ISB Pro800 Turbo think it had two internet connections.
We tested the unit for several hours with just regular web surfing (daily work) and did some file transfer tests. During the testing, we repeatedly pulled out one of the two connections from the ISB Pro800 Turbo to see if the net connection was indeed kept alive. Web surfing was not affected one bit, either connection could be severed without any problems. File transfers however were different. When one of the net connections is cut, often the file transfer would stop all together and time out.
Since the unit is a switch also we decided to test that part of the ISB Pro800 Turbo as well to see how it would perform.
Simple HDD Data Transfer
Source: PCStats
We created two 512MB dummy files and used Windows Explorer to drag and drop the two files from one computer to the other. The IDE controllers on both computers ran at Ultra/100 with DMA enabled.
1 GB File Transfer
Drives
Time
1.
10Mbps
1003 sec
2.
100Mbps
114 sec
The ISB Pro800 Turbo performs about the same as the COMPEX DSR2216 Switch we tested recently which performed very well.
Conclusion: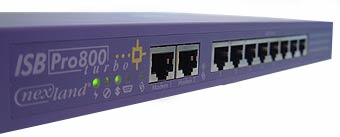 With a price tag of $629 CDN, the Nexland ISB Pro800 Turbo is not a router for everyone. In fact, the average user really doesn't need the features that make this a very secure networking product. Small or medium business that need 100% internet up time, coupled with effective redundancy and security features are bound to see the usefulness of the NexLand ISBPro800 Turbo.
We were impressed with the overall build quality of the ISB Pro800 Turbo, right from the get go we got the impression that it was a well thought out product - the detail in the manual and quick start guide are excellent. Administrating the ISB Pro800 Turbo is very straight forward and detailed help files and an intuitive GUI ensure little confusion as possible. The overall performance of the unit was very good, with web surfing, we could disconnect one internet source from the unit with no interruptions however file transfers however would often time out.
If you're a business that needs 100% up time, the Nexland ISB Pro800 Turbo is a solid piece of networking hardware that can fulfill almost all your needs as a router, switch and VPN device. About the only thing we are disappointed at is the fact that we have to send the ISB Pro800 Turbo back!